Welcome events
Welcome to Delft event
This event is POSTPONED to a later date. All who have registered have been informed. More details soon. Thank you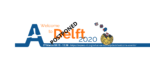 The City of Delft together with Delft University of Technology (TU Delft) and ACCESS provide a free "Welcome to Delft" programme, twice a year. The Welcome to Delft programme is designed for those coming to work and live in Delft. Family members are welcome and encouraged to attend.
Participation is FREE of charge, though your pre-registration is required.
27 March 2020

The next Welcome to Delft event will be held on Friday 27 March 2020.
The programme will include information about the City as well as a short tour, guided, of the centre – with a chance to network and meet new people.
09:15 Arrival/coffee Rietveld Theater, Rietveld 49, 2611 LH Delft
09:30 Welcome by City of Delft & Delft University of Technology
09:40 Living in the Netherlands: "Who are the Dutch?"
10:00 Introduction to local resources for cultural activities etc.
10:20 Introduction to ACCESS website
10.30 Coffee, tea break and prepare for walking tour
11:00 – 12:30 Guided walking tour through the historic city centre
You can register here. Deadline for registering is 20 March 2020.