Welcome events
Ask the Experts Sessions Utrecht
Dates in the fall to be confirmed
Our experts will be at the Expat Center Utrecht to answer your particular questions: on career options; having your CV checked; as well as questions related to renting.
We are delighted to share, that together with our partners in the fields of career development and housing, we will continue the regular drop-in sessions at our desk at the Expat Center Utrecht (ECU) which we started in 2018. Following the successful feedback and appreciation for these 'drop-in' sessions ACCESS and its partners are happy to continue to be of service. Of course, our team of Information & Hospitality Officers will also be on hand to guide you to the answers to many other questions regarding relocating to and living in the Netherlands.
WHERE: Location: Expat Center Utrecht @ Stadsplateau 1, Utrecht
WHEN: every second Thursday of the month, starting 14 February 2019
For inquiries regarding the next step in your career or to have your CV checked: drop in between 09:00-12:00 – do bring a hardcopy of the most recent version of your CV with you.
For inquiries regarding the rental market, and housing in general: drop in between 13:00-16:00
Clients will be served on a first-come first-served basis, and will have about 10mins with our experts.
THE EXPERTS:
Janet Rodenburg of Casita Coaching
Are you wondering how to continue your career in the Netherlands or are you considering a career switch? Lost sight of who you really are? Janet Rodenburg – a native Dutch, with ample international working and living experience – will help you finding your purpose and exploring your options. After the initial hurdles, your transition to the Netherlands may be a window of opportunities!
Tory DeBassio – Recruitment Specialist
Looking for a job and struggling to get that first interview? Recruiters usually look at a CV for six seconds before deciding whether to move forward with your application. Have a native English speaker with professional recruiting experience take a look at your CV to help get it into that "yes" pile. Tory DeBassio will help with organization, grammar, spelling and strong active verbs. Get feedback that's useful to make your CV more appealing in the application process.
Jo, Rianne and Sjouke of My Home Relocator / SJV Vastgoed
Navigating the local rental market can be perplexing. Knowing what your rights are, what to look out for in a contract and how to ensure things are done properly from the start are crucial. Have questions about how this works in the Netherlands? Sjouke and his team will be on hand to answer them. They will ensure you enjoy every step of the process, and help with all the legal ins and outs to protect you from pitfalls. My Home Relocator stands for personal contact and long-term relationships. "Together we will find you a house to call home!"
Future dates of ACCESS' Ask the Expert Sessions in 2019 are:
Dates in the fall to be confirmed
Location: Expat Center Utrecht @ Stadsplateau 1, Utrecht
IN Amsterdam seminars and events
Want to know about living and working in Amsterdam ? Do visit the IN Amsterdam's regular seminars and partner events for free of charge.
Upcoming event – Family Matters seminar, enjoy a morning snack and coffee while learning about key family matters.
Programme
Date: Wednesday, 28 August
Location: IN Amsterdam office
08:15-08:30 – Arrive at the IN Amsterdam office
08:30-10:00 – Presentations
10:00-10:30 – Q&A and time to mingle
Topics of the presentations include:
International education vs. Dutch education by Young Expat Services & New2NL
Simplify your life in the Netherlands by In2motivation
Dealing with death, breakups and family emergencies while living in Netherlands by FAM. Advocaten
The effects on children when they relocate to a new country by Expat Kids Club

Bilingual daycare and how it works by Hestia Kinderopvang

Sign up to attend
https://www.iamsterdam.com/en/living/feel-at-home-in-amsterdam/community/family-matters-seminar
Welcome to Delft event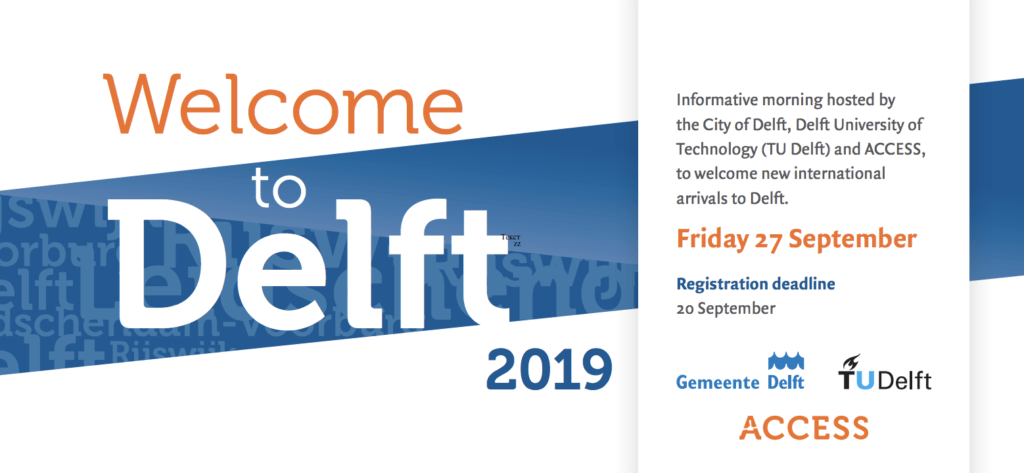 The City of Delft together with Delft University of Technology (TU Delft) and ACCESS provide a free "Welcome to Delft" programme, twice a year. The Welcome to Delft programme is designed for those coming to work and live in Delft. Family members are welcome and encouraged to attend.
27 September 2019
The next Welcome to Delft event will be held on Friday 27 September 2019.
Programme
The morning programme includes:
09:15 – 09:30 Arrival/coffee Rietveld Theater, Rietveld 49, 2611 LH Delft
09:30 – 09:40 Welcome by City of Delft & Delft University of Technology
09:40 – 10:00 Living in the Netherlands: "Who are the Dutch?"
Presented by Caitriona Rush of At Home Abroad
10:00 – 10:20 Introduction to local resources for cultural activities etc.
10:20 – 10:30 Introduction to ACCESS website: "What ACCESS can do for
internationals," presented by ACCESS volunteers
10.30 – 11.00 Break and prepare for walking tour
11:00 – 12:30 Guided walking tour through the historic city centre
12:30 – 13:30 Coffee, light lunch & networking @ Rietveld Theater
• Pre-registration required register.access-nl.org/delft/
• Questions via delft@access-nl.org
• Participation is free of charge!