ACCESS NL > Features > Shaping a better future for all: ISH in The Hague
Shaping a better future for all: ISH in The Hague
2020-03-24 | By ISH
The International School of The Hague (ISH) works hard to make its vision of shaping a better future for all a reality.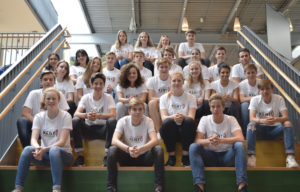 Project Kenya
As an example of this, our Vice Principal for Experiential Learning, Ben le Heux, is inspiring students to become compassionate and proactive global citizens by organising "Project Kenya" where a team of our Year 12 students travel to Kenya to help develop a rural school.
In partnership
Working in partnership with the parents, students and teachers of Njoro Central Primary School, the ISH Team will build a concrete block classroom and two 5000 litre water tanks to provide water during the dry season. They will also partner with the charity "Breakfast for Children" to help provide a daily school breakfast and deworming programme to help encourage school attendance and child health.
Amazing opportunity
To be part of this amazing opportunity, members of the Team were asked to demonstrate the skills and experience they would bring, indicating what they hoped to get out of the experience and supplying a detailed proposal of a fundraising venture to pay for the proposed classrooms.
A long-lasting impact
The selection committee felt the main quality students needed to possess to get the most out of the projects was being open to new things. This teaches them it is possible to have a positive and long-lasting impact across the world.
The benefits to the successful candidate would be to help them gain the confidence to explore the world by themselves and realise that happiness can often be found through people, not possessions.
For more information about The International School of The Hague (ISH), please call 070 328 1450. Click here to learn about education in the Netherlands.