ACCESS NL > Features > The American Book Center: It's as easy as A.B.C.
The American Book Center: It's as easy as A.B.C.
2022/10/04 | By Lee Hitchcock | Photo by Gerard van Beek
Since the early 1970's, the American Book Center in the Netherlands has been helping English speaking readers get their literary fix. But what is the secret of their ongoing success in the ever-changing world of books?
Many of us have been there. You are in a foreign country, maybe for a year or two, and you make a vague promise to yourself to learn the language. That year or two (which often becomes a decade or two) passes. You still want to learn the language – and you already have the basics – but the locals are just too accommodating and willing to help you out by showcasing their own spectacular bilingualism. The upshot is that you are not quite ready to navigate War and Peace in Dutch but let's be honest, you still want to read that latest thriller in English. Now, if only there were a local bookstore that could help…
Turn a new leaf
In 1972, the American Book Center (ABC) was opened in Amsterdam by Sam Boltansky and Mitch Crossfield and was initially a bargain shop selling remainder books and magazines from America. Shortly thereafter, Boltansky and Crossfield were joined by fellow American, Lynn Buller who was on holiday in the Netherlands. Their early success resulted in a second bookstore being opened in The Hague in 1976 and Buller's (long) holiday looked set to continue even further. Originally employed to look-out for shoplifters, Buller – along with her family – eventually took over the ABC in 1983 and the Kaplanian-Buller's still run the company today.
Shelf life
With half a century of staff – as well as years – behind it, endurance is synonymous with the American Book Center. Amid a highly volatile financial environment – even before "pandemic" became an everyday household word – the ABC has had to be a survivor. And not only in terms of the technical revolution which has changed the way we consume our literature, but also in relation to devices such as Kindle and Audible, and the gargantuan rise in online shopping which has squeezed traditionally shop-bought items to the margins of retail society.
On the same page
Many still have an enjoyment – preference even – in going to the shops, and that love of the tactile has helped ensure that there is still a market for enterprises like the American Book Center. But longevity must be earned, and the ABC is not without competition. In Amsterdam itself, there are several other English language bookshops, including bookselling behemoth, Waterstones. In The Hague, De Paagman now has two prime locations in the city including an entire area dedicated to English language books at its flagship store. And train station and high-street staples like AKO and Bruna also have dedicated English language sections at their shops around the country.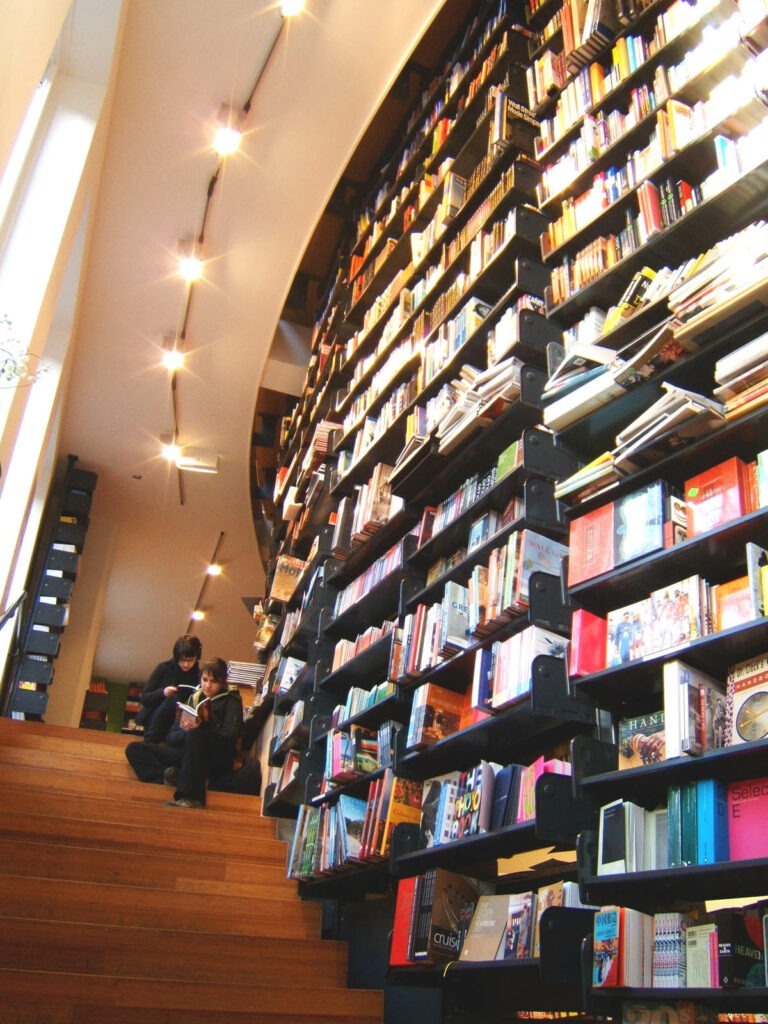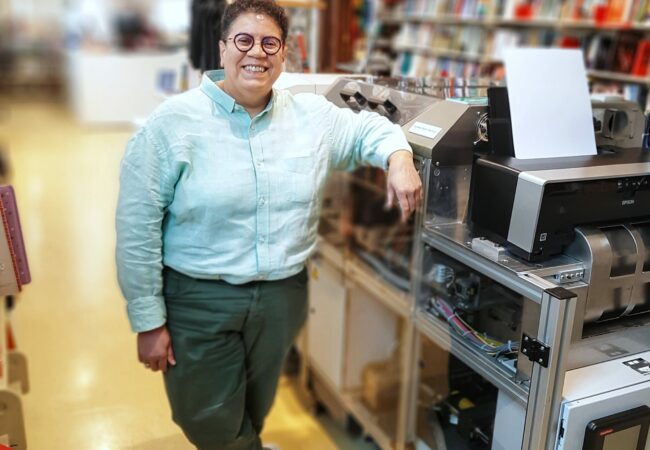 Next chapter
But competition can be good. And relevance and a healthy disruption of the norm have also been key to the American Book Center's continuing durability. Self-described as "stubbornly independent", they were one of the first bookstores to go online in the nineties. More recently, they acquired "Betty" – an Espresso Book Machine (EBM) – which allows the centre to provide a print-on-demand service, giving the local community an easily accessible hub for self-publishing.
Such community focus is pivotal to the importance of ABC along with their regular open-mic sessions, book talks, signings, trade-in days, and blogs to keep their customers engaged. Added to this is a focus on diversity, allowing ABC to also speak to a younger generation with pop-up stores at events like Comic Con, as well as offering an increasing selection of Young Adult (YA) literature, Manga and BookTok hits.
Book smart
Not all independent bookstores having been fortunate enough to survive the technological and economical challenges of the past decade and Lynn Kaplanian-Buller shared her view on what has allowed the American Book Center to continue for so long during times of perpetual change.
"The ABC is the ongoing story of how several people from all over the world – with no bookselling experience and just a container full of unsorted books – asked for help and grew some English language bookstores in a new land," says Lynn.
And indeed, it would seem that starting from scratch encouraged innovation and reduced fear of failure, as the ABC now has more than 700 years of combined bookselling experience on its staff, as well as fresh talent to help teach about new trends.
"We provide information and stories – brainfood you might say – from booksellers with a personal touch," says Lynn "and we encourage people to become authors by helping them to print their stories – because writers are readers, and readers are writers," she adds.
Feed me
It seems there is always something going on at the American Book Center and that the serendipity of connecting readers with books brings the team the most joy. The Netherlands is full of such hungry brains, teeming with interesting and interested individuals, and is a multicultural melting pot of people with an unquenchable thirst for literary input and societal connection. For as long as this appetite remains, the American Book Center is only too happy to keep on serving… Here's to the next fifty!
Did you know:  
The American Book Center has stores in Amsterdam, The Hague and Leidschendam and is open seven days a week at all three locations.
Click here to learn more about expat groups and clubs in the Netherlands.
About the author:
Lee Hitchcock has been in the Netherlands for over a decade and is passionate about writing and literature. He lives in The Hague with his partner and daughters and loves to enjoy Scheveningen beach life.