ACCESS NL > Features > Home thoughts from abroad
Home thoughts from abroad
2022/11/16 | By Sandra Silva | Photo by Sandra Silva
The Netherlands might not be the first place one thinks about upon hearing Caldo Verde. But this traditional Portuguese green soup has recently taken on a distinctly orange flavour. Let's find out more.
Flavours that roam
A key part of any culture is the food. There is nothing quite like travelling to broaden the mind and enrich the soul, and when you include the sampling of local cuisine it adds a whole new dimension. Food has the clever knack of conjuring up childhood memories, and recollections of holidays and special moments… It is therefore no surprise that when foreign nationals begin a life in another country, the recipes from home will make the journey too.
From Minho to me
Just like the Netherlands, Portugal takes its food very seriously and for a relatively small country, it manages to dish-up an enormous wealth of variety and quality. With regional influences peppering the land, one staple that can be found in homes and restaurants up and down the country is Caldo Verde – a green soup from the Minho province of Northern Portugal.
Eat your greens
A key ingredient of Caldo Verde is couve galega which is a Portuguese cabbage cut into very thin strips to soak-up as much flavour as possible when combined with the modest ingredients of potatoes, garlic, olive oil, and onion.
However here in the Netherlands, this traditional couve galega is being replaced with boerenkool which creates an equally tempting bowl of goodness, with a delicious Dutch twist.
 Fables of old
Dating back to the fifteenth century, Caldo Verde is generally offered as a light supper, or a starter in a three-course meal. Customarily served in earthenware bowls – known as tigela – the soup is largely eaten in Portugal during the festival of saints in June and at New Year's Eve, but it is also popular enough to be enjoyed all year through… and thanks to Dutch boerenkool, this is now also true in the Netherlands.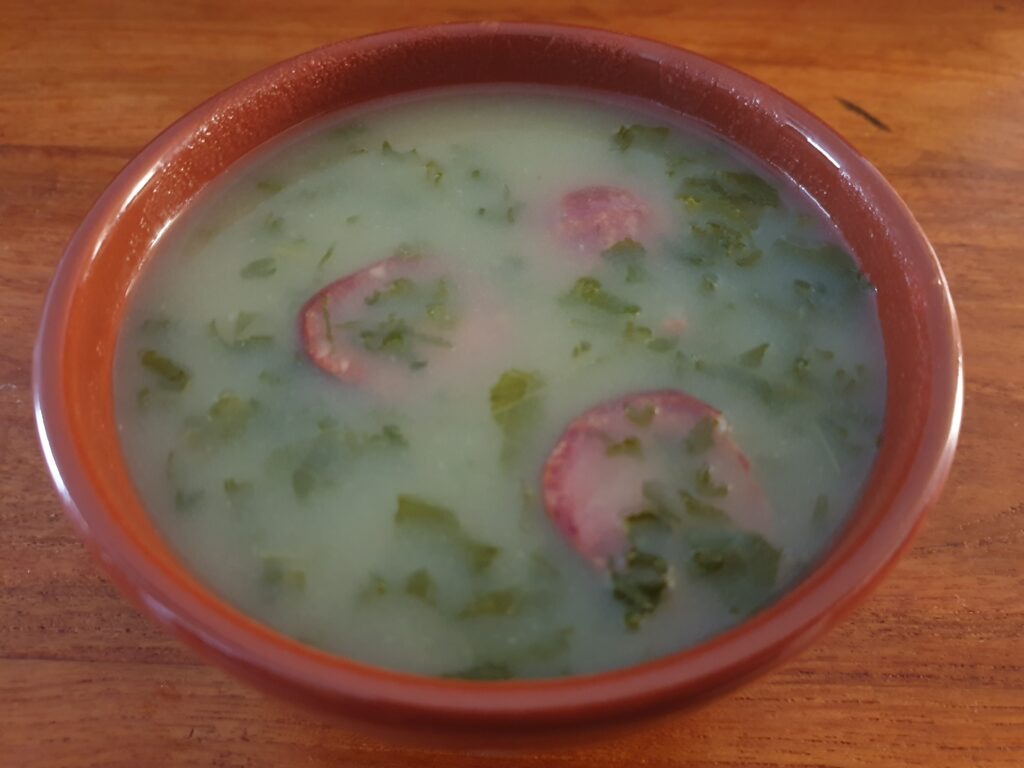 Cultural Caldo
Despite humble origins – Caldo Verde started out as a dish for the less affluent – references to the soup can be found in prestigious works of Portuguese literature by Camilo Castelo Branco (1825–1890), Júlio Dinis (1839–1871), Eça de Queirós (1845–1900), Ramalho Ortigão (1836–1915) and Fernando Pessoa (1888–1935).
Celebrated Fado singer Amália Rodrigues (1920–1999) also immortalized the soup in the song "Uma Casa Portuguesa" (A Portuguese house) with the lyrics: "it's just love, bread and wine, and a Caldo Verde steaming green in the bowl". Many Portuguese considered this song to be a second National Anthem even…
With such impressive accolades, it is no surprise that CNN Travel labelled Caldo Verde as one of the Seven Wonders of Portuguese Gastronomy.
Stirring the pot
The basic Caldo Verde green soup is vegetarian but the addition of chouriço (a Portuguese sausage), will ensure the dish appeals to meat fans too. And if you want to complete the Portuguese experience, why not have broa (Portuguese cornbread) and a glass of Vinho Verde wine (also from Minho) on the side.
Caldo Verde is Portuguese comfort food at its best and – now that we can recreate the recipe here in the Netherlands – it means that home is not that far away after all.
Let's get cooking
Ingredients:
5kg peeled and washed (mashing) potatoes – roughly chopped

150–200g boerenkool – shredded

1 large (or 2 medium) onion(s) – cut into quarters

½ a garlic clove – peeled

150g smoked Portuguese meat sausage (chouriço) – available in Portuguese specialist shops

1–2 tbsp. olive oil

1½ tsp. salt
Method:
Place boerenkool in a pan with enough water to cover. Add a good pinch of salt and leave to boil for a few minutes.

Place potatoes in another pan, add the onion, garlic, and a teaspoon of salt. Add 1.5 litres of water and bring to the boil.

Reduce heat and cook for 20–25 minutes (or until potatoes are soft). Remove the pan from the heat and use a hand blender to mix to a smooth purée.

Drain off the boerenkool and add to the purée along with the olive oil. If desired, add some slices of chouriço and mix well.

Cook the entire mixture for another for 5 minutes, stirring frequently (if a "thinner" soup is preferred, just add a little more water)

Pour into individual bowls and serve – you can also add more slices of chouriço on top.
Enjoy! (Bom apetite. Smakelijk eten).
Did you know?
Vinho Verde (green "young" wine) can be red, white, or rosé.
Look here for more interesting recipes.
About the author
Sandra Silva is a Portuguese teacher and city-guide living in Almere who is passionate about photography, travel, art, history, and storytelling. www.sandrastours.nl | @sandrastoursnl