ACCESS NL > Features > Get Hooked on Surfing in Holland
Get Hooked on Surfing in Holland
2020-07-10 | By Jacqueline Pemberton
What better to wash away the blues than by diving with a board on a hot Dutch summer's day (Yes, they do exist) into the cool, refreshing waters of the North Sea, where you just might, if you are lucky, experience the thrill of catching your first ever Dutch wave.
When it comes to surfing, the Netherlands is probably not the first place that springs to mind, but the Netherlands does, believe it or not, have its own unique modest brand of surf culture and history and even boasts a few world-ranked surfers to boot, such as Yannick de Jager and Nienke Duinmeyer.
Quite an achievement for a tiny, overcrowded Kikkerland (that's frog land to you and me), perched precariously behind rows of fragile-looking sand dunes, that appear at first glance to bear the sole responsibility of holding back the ever-encroaching, cold, dark North Sea.
Founding Fathers
According to the Dutch Surfing Association, the first Dutch surfer to dive into the frigid Dutch waves with a board, was Coenraad Nederveen in Noordwijk in the 1930s.
However, the true founding father is "Go Klap" (A quintessential surf name, if ever there was one), who began making boards from material imported from England to sell to a small, but resolute, group of pioneering Dutch surfers eager to get their hands on them, since surfboards were not freely available in the Netherlands in the late '60s.
It's fascinating to ponder that had Klap not spotted a fellow Dutchie rummaging in the surf with a "Bob Harbour – Longboard," he had recently brought back from Australia, perhaps it all might never have happened.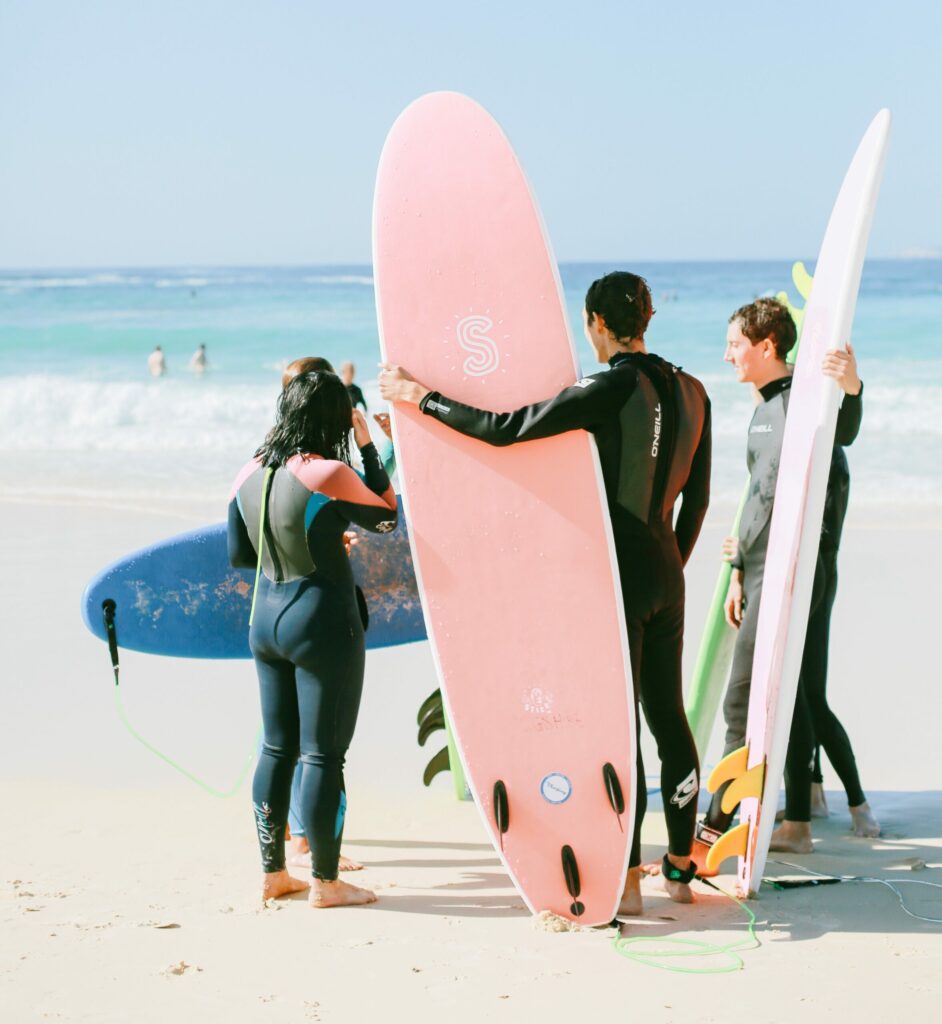 The Dutch/Australian Connection
"When I was twelve, I joined the local lifeguarding community as a youth member together with my cousin. The senior lifeguard at that time was one of the few surfers in the area and he learned how to surf in Australia. He taught us how to surf in Holland and I loved it immediately," says Nienke Duinmeyer
The fact that there has been a thread of Australian influence running through Dutch surfing to this day is no surprise when you consider Australia has long been a powerhouse in world surfing, and because Australia continues to cast its spell on the hordes of Dutch back-packers who flock to her shores each year, where they invariably discover the surfing bug for the first time. Once hooked they continue to pursue it when they return to the Netherlands, where they are often taught by either Dutch surf instructors who have learned to surf in Australia or by Australian expat surfers, such as Chris Way who is based in the Netherlands.
"I didn't have a clue you could surf here." – Chris Way
Way is the owner and head coach at Ozlines, a surf school he set up in the late 90's that offers lessons to both beginners and professional Dutch surfers alike and is now firmly established on the Dutch surfing scene, which, he says, was quite small at that time.
After initially being introduced to the low waves of the lowlands by his Dutch wife Ingrid on her native island of Texel–where he says the surf is quite good for Holland–it was a bike ride through Amsterdam shortly afterwards that peaked his interest even more and ultimately sealed the deal on the trajectory of his life at that time.
"So I was living in Amsterdam for the first few years, and there was this surf shop–a snowboard/surf shop–and I'd ride my bike down and I'd see a surfboard in the shop window, and I was like, 'Check this out!'"
Way spoke with the shop's owner (a fellow surfer who, he says, remains a friend to this day), who urged him to visit the small surf community of Wijk aan Zee, for the favourable wind/surf conditions and for the friendly, growing community of surfers there.
"I bought myself a cheap old car, so I could get out of Amsterdam. And there was this crew and a   little surf shop there at Wijk aan Zee. I met the local surfers and being quite a good surfer myself, I guess I was kind of welcomed into the community."
Diehard Dutchmen in Duikpakken (Wetsuits)
"I love the surf culture in Holland. During my travels I found out that nobody really can beat the Dutch in terms of determination and stoke for surfing. "The Dutch are so keen to surf in any conditions or temperatures," says Nienke Duinmeyer.
What the Netherlands lacks in terms of weather, cold water and fickle waves, it makes up for with its small but growing tribe of 'cold' calm and collected Dutch surfers (plus one or two expat converts) who are more than willing to venture into the chilly, choppy conditions in winter and the frustrating flat spells in summer all for the 'magic' of catching that ever elusive Dutch wave.
According to Way, one of the biggest things that sets the Dutch surfers apart is their enthusiasm: "They're very stoic, they didn't get dealt the best hand.
I think half the people would stop in Australia if they had to surf in these conditions."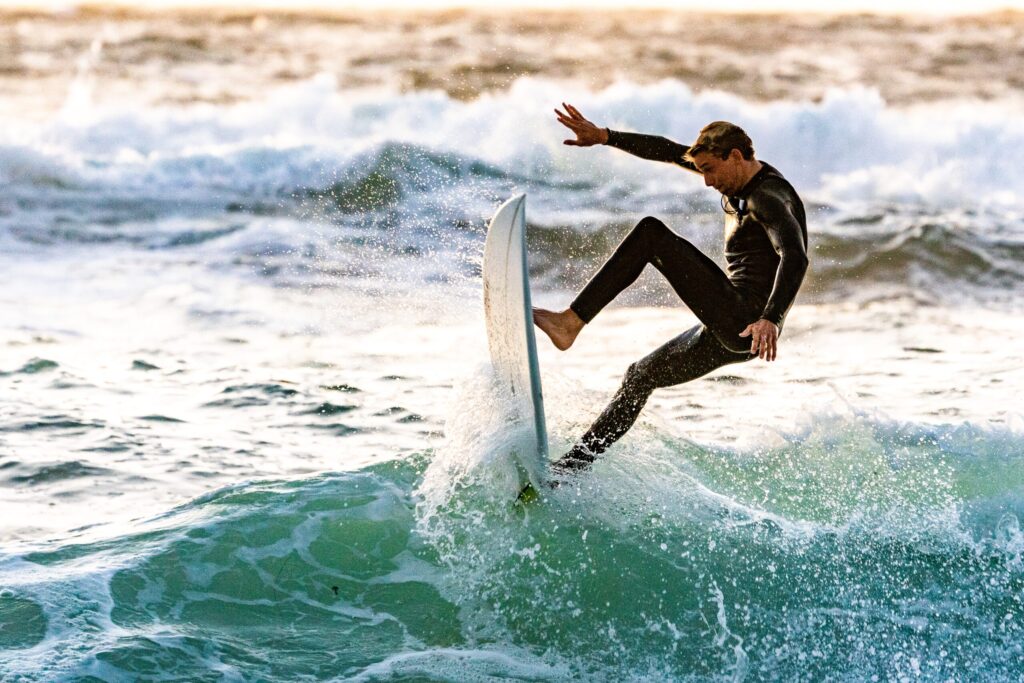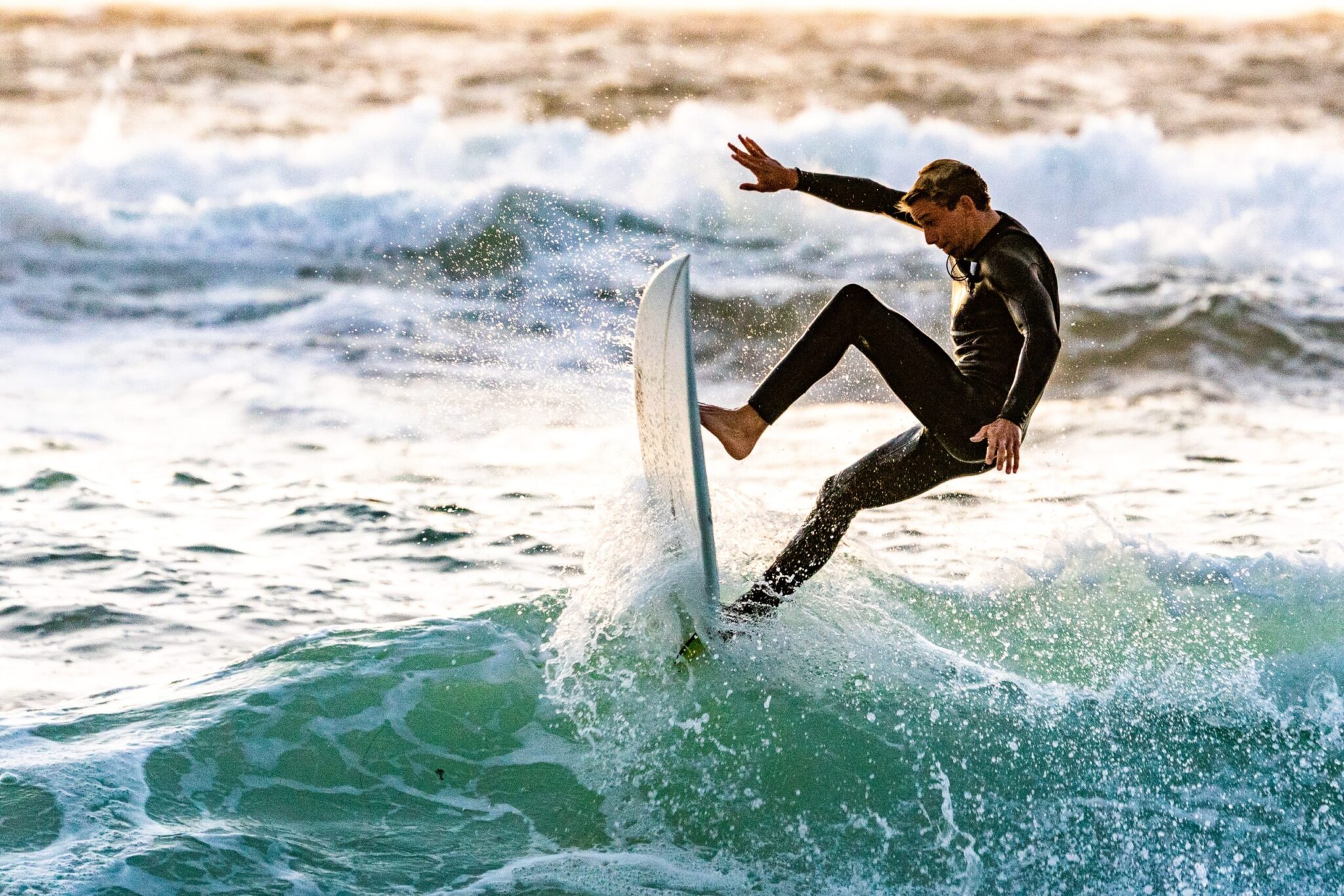 Patience, resilience, and low expectations
"You're pretty much always in a wetsuit," says Chris Way. What would possess someone to willingly venture out to the cold, mushy, gray conditions in winter, decked head to toe in a wetsuit, resembling a North Sea seal (which, incidentally you might catch a glimpse of staring back at you quizzically as if to say, "are you nuts?"). Or alternatively, sit out on a board for hours on end in summer, waiting for a wave that may never come, with the less than romantic Tata Steel manufacturing plant looming in the background? (at least around a cluster of beaches on the North Holland coast.)
Is it the challenge or the thrill of the chase? Or is there's something in the Dutch, Calvinistic character that is conducive to appreciating what they have and making the best of what they have been given? (After all, they did reclaim their country from the sea.)
"Surfing in Holland requires a lot of effort, but that's what makes it special; it keeps you hungry, and you don't take it for granted," says Yannick de Jager. Or is it simply a marvellous way to get back to nature and take time out from a life that is often stressful and crowded (at least pre-Corona), with an often lack of space and nature, at least in the the Randstad, where the bulk of the population is situated.
"It helped me, that's something I missed in Holland." – Chris Way
As for the scenery, it seems even that can have its own appeal, as Way in an interview with the Volkskrant newspaper says, "Wijk aan Zee is one of the busiest shipping lanes in the world. It is so different to all the other surf spots. Yet, as you lie here in the water at night and you see the lights of the Randstad begin to shimmer from the factory in the background, there is something magical about it."
Who needs waves?
"I see surfing as riding waves in any form, it doesn't necessarily have to mean standing up. But if you want to stand up, and you've got a reasonable fitness and mobility, then yeah," says Chris Way.
Clearly for professional surfers, the lack of swell in the Netherlands is far from ideal, however for those attempting to dip their toes in the water for the first time, such as older/infirm people or very young children who may feel intimidated by bigger waves, the long, relatively safe sandy beaches with their sandbanks and gentle waves are ideal.
As de Jaeger, who was coached by Way, says, "If you're a beginner, you don't need the biggest and best of swells." Way also concedes that supping (paddle-boarding) is a great way to train balance but stresses "if you want to learn to surf, then surf".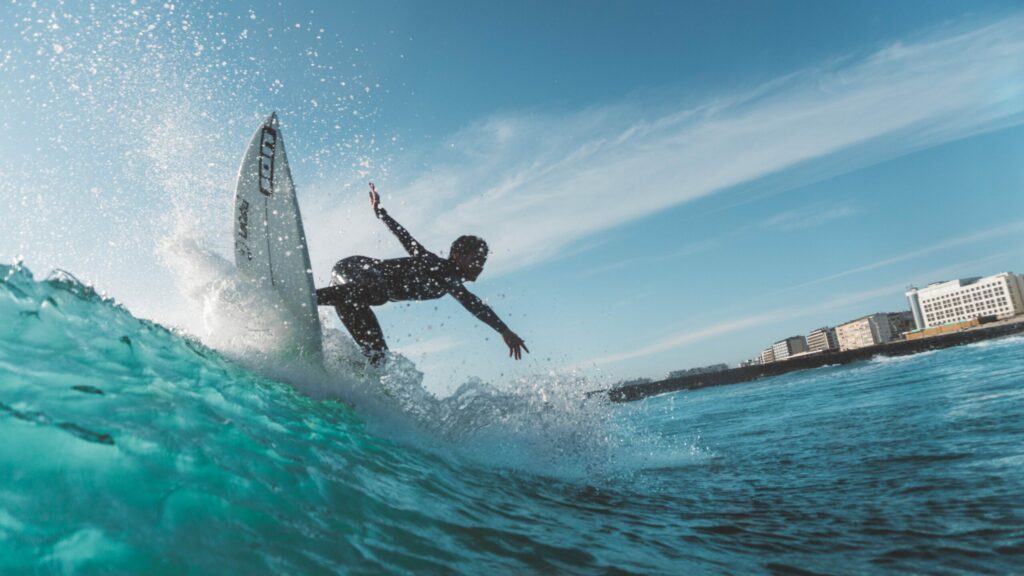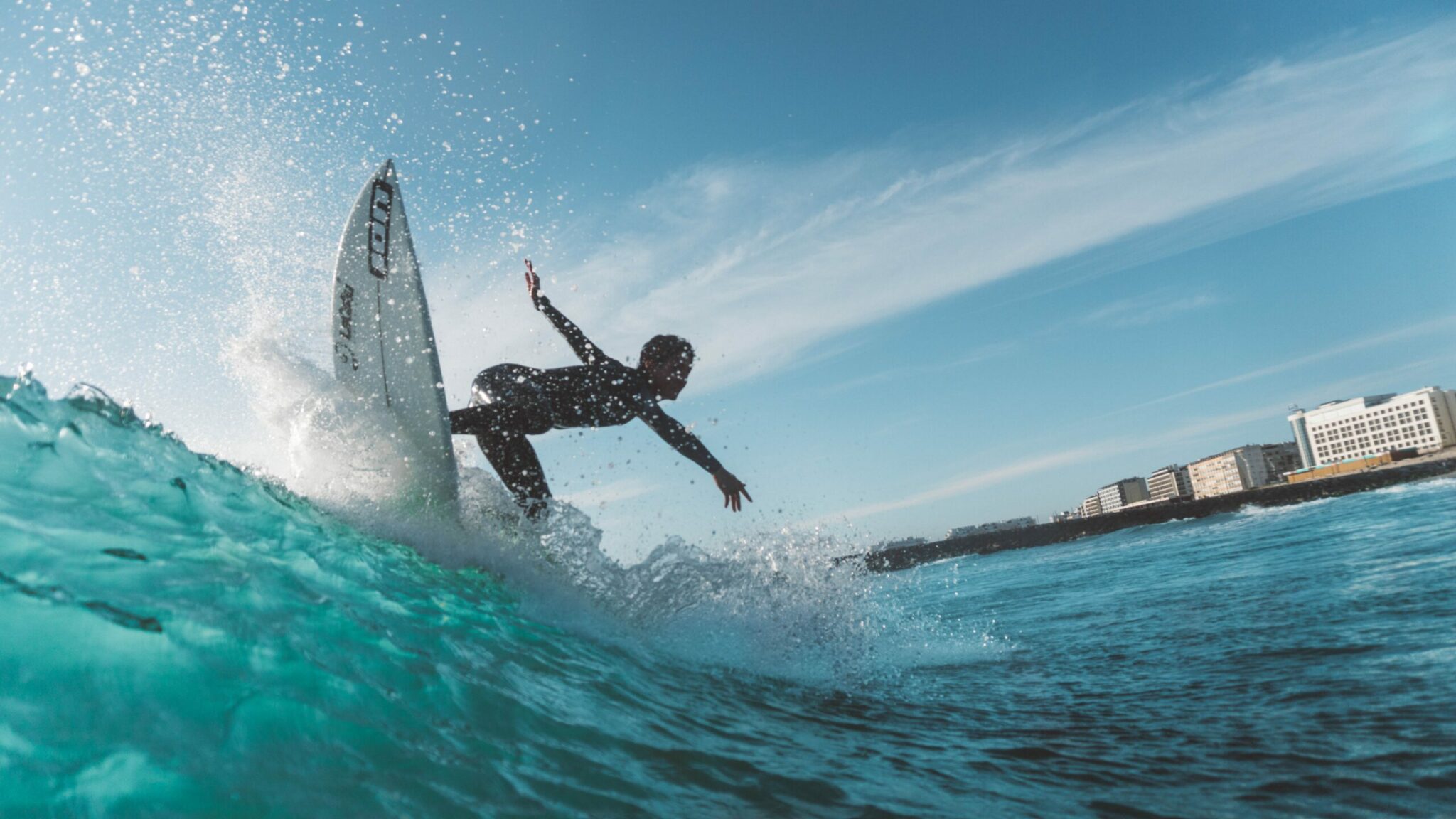 Think you're too old to surf? Think again!
While the old stereotypical image of the young, wild, bleach blonde, tousle- haired rebel still resonates, surfing is no longer a pastime exclusive to the young, especially since we are all living longer and in general becoming fitter.
However, it is important when starting out to at least be moderately fit, strong and flexible, and obviously to be a fairly strong swimmer. That being said, if you are not that fit to begin with, you soon will be. So be prepared to see your fitness levels soar, mental health improve, and your stress levels decrease.
According to Way, really important is a certain degree of hip mobility. "What you tend to see with a lot of older people who have especially sat at a desk all their lives is that they don't have enough hip mobility," he says.
Another Aussie who has held surf workshops in the Netherlands, Gee Cormack (owner of Chix Surf School, a surf school exclusively for girls and women, and one of the world's leading woman surf instructors), says you at least need a little strength in your core and your arms and legs before starting out. "It's a challenging sport that needs all your body control, so you need to have at least a little bit of body awareness," she says.
However, both Way and Cormack agree that one of the best ways to achieve this is through yoga, as it helps your mind and body to become more attuned to surfing through movement and breath, etc., as well as increasing your overall fitness level at the same time. As Cormack says, "yoga is all about fluid body movements which is what surfing is all about as well. There are a few different activities that really help surfing, but yoga is a good one as it is fluid body movements where you have to see your core engaged."
Is surfing difficult?
What could be so hard about grabbing a board, learning to stand up on it and riding a wave? Well, it turns out a lot. While it may look deceptively easy to the outsider, surfing has a steep learning curve and is difficult to master. As Cormack says, "if you think about it, you are trying to stand on top of moving water, which is complicated in itself, but not only that, every minute of every day the surf conditions are changing so you need to be able to adjust your surfing continuously. But that's what makes it one of the most amazing sports in the world."
It is important to keep in mind when learning to surf in the lowlands, that it is better to start with a longboard, and/or a 'foamie' (as the word implies, a surfboard made out of foam that is used by beginners, or 'kooks', a mildly disparaging word that beginning surfers are sometimes teasingly referred to) as they are more suited to the sloppy, inconsistent wave conditions.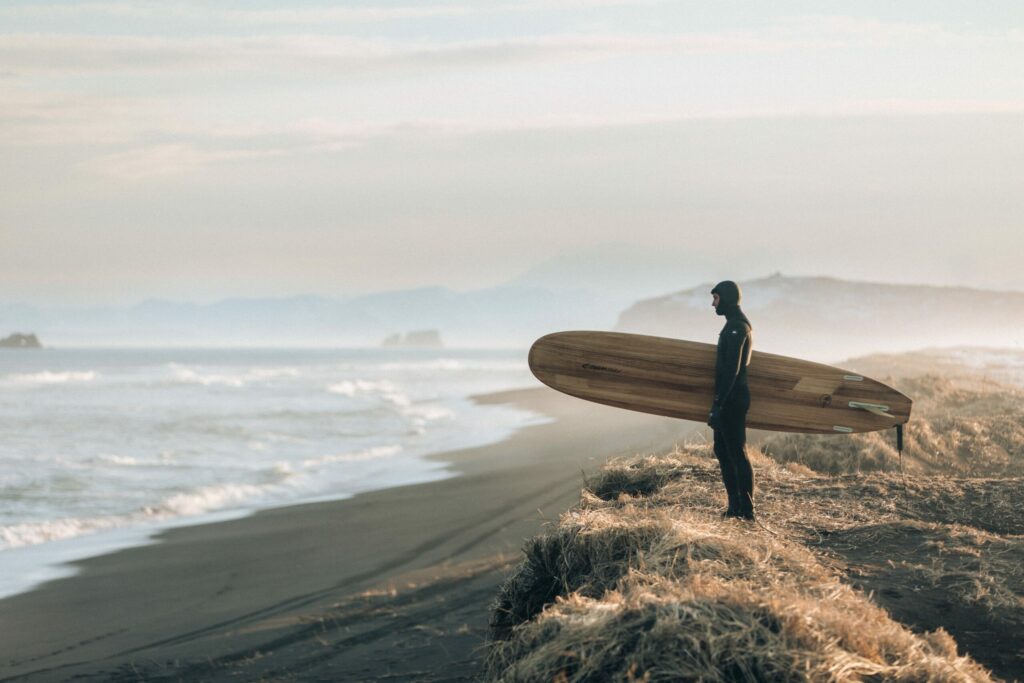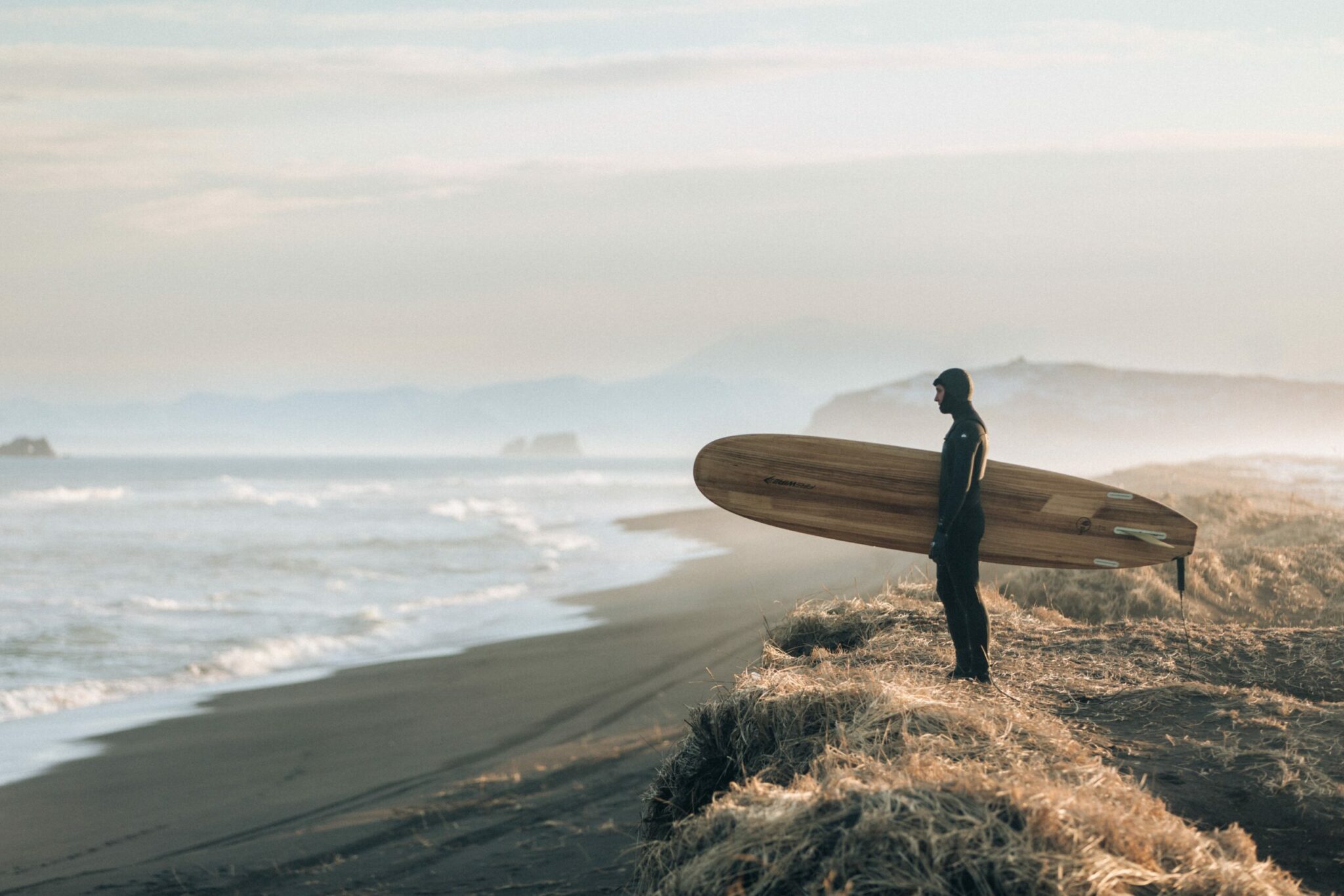 Wash your troubles away Surfing is also increasingly being used as a form of therapy, to treat among other things anxiety, fear of failure, post-traumatic stress disorder, or for people with a disability, illness, and people who may be recuperating from an accident, and studies have shown marked improvements in their conditions after only a few sessions. As Tijs Bezeij, founder and director of the foundation 'Surftherapie', an organisation that uses stand up paddleboards (or SUPS) says, "we see wonderful things happen during the surf."
Moreover, as Cormack says, "the ocean is a very powerful space to be in and it does most of the work for us. It's just about teaching people to connect with it so they can use it as an empowering or healing tool."
In the water everyone is equal The surfing community now includes people of various walks of life and crosses cultural, age, social and gender barriers, and particularly more and more women finding empowerment in the water.
Surfing also happens to be one of the most affordable pastimes there is; all you need is a board, a wetsuit and to adjust your expectations. So, why not grab yourself a foamie and try surfing for yourself this summer? Who knows, you just might end up getting hooked.
*All images used for this article are taken from Pexels.com
About the author
Jacqueline Pemberton is a British-Australian freelance writer based in Ubbergen. She has an M.A. in Writing from Swinburne University and enjoys writing screenplays, drawing, and playing guitar in her free time.