ACCESS NL > Features > Dutch design potential: Belongs to the students
Dutch design potential: Belongs to the students
2021-05-25 | By Hannah Behrens
In the Netherlands, Design Academy Eindhoven (DAE) stands out for its unique philosophy and approach to design education, and has become a leader in training the next generation of designers.
Dig deeper
Recent BA graduate, Michelle Kee, was initially impressed by the outstanding quality of DAE's student work and the unique approach. She reflects upon her educational experience, "I've learned to dig deeper, to find something that really gets my curiosity sparked, and to find a way to explore that concept; something human-centred, helping people and utilising design to find a way to do that."

Kee's senior project reflects the human-centred design that the school is known for, a project related to sexual education. "I found myself in a situation where I was negatively impacted by personal experience. The Netherlands is at the forefront of quality information and encouragement of dialogue. Growing up in Seoul, South Korea, there is a cultural stigma around sex, which leads to a lack of both practical information and people simply talking about sexual issues."

Kee conducted interviews with different professionals, and others in her own university-age peer group, to gain deeper insight and knowledge on topics of sexual education, openness and resources. She conducted anonymous personal and online interviews to two main questions: "Can you describe a sexual experience that has taught you a valuable lesson?" and "What was that lesson about?" She brought the audio stories into a collaborative project with 17 illustrators, creating an artistic and informative experience for participants, artists and experts and the public. The final result was to develop a website that shares and promotes sex positivity in a meaningful way.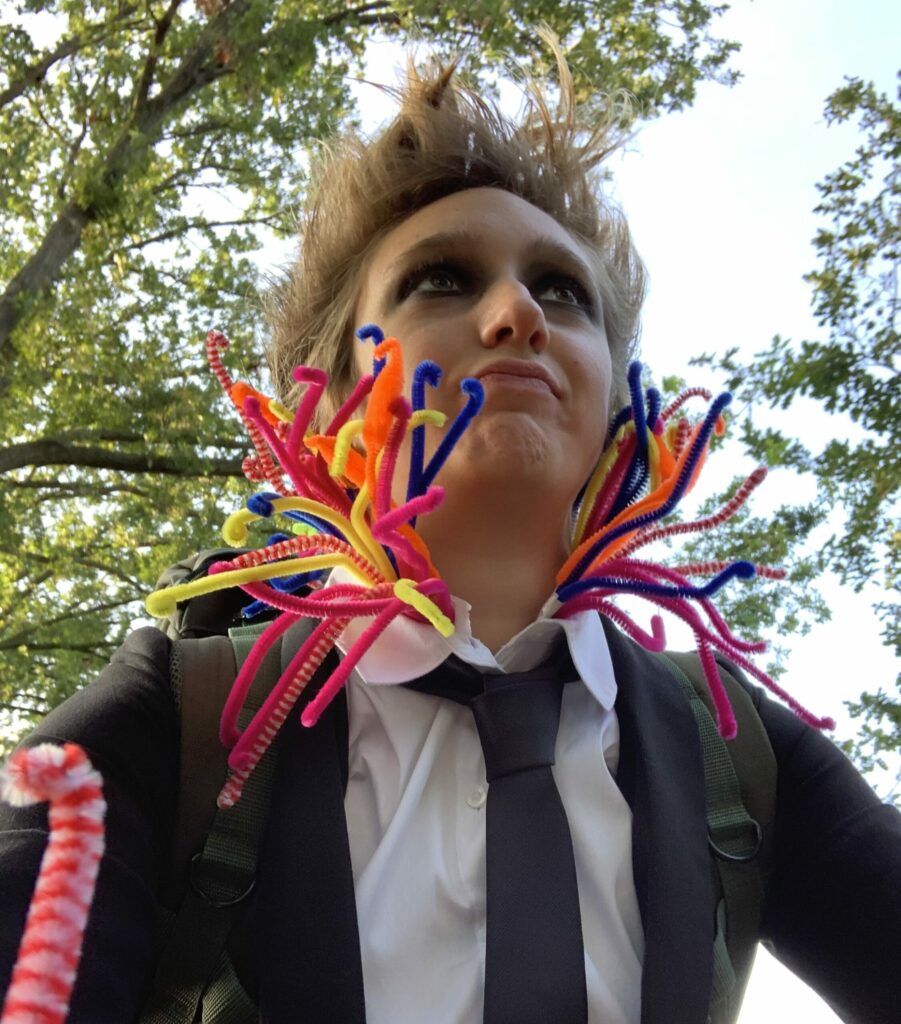 Beyond traditional
Second Year BA student, Charlene Dosso, explains that up until last year, her focus area would traditionally be called 'Communication,' but her department is now called 'Studio Moonshot'. The name comes from the concept of deriving motivation, action and solutions from a big question, such as "How do we get to the moon?" and prompts collaboration and experimen- tation beyond traditional department parameters.
Studio Moonshot focuses mainly on computer-based software development, 3-D modelling, animation, and game creation. However Dosso prefers working directly with people and was drawn to study design at DAE because she didn't want to be put in a box the way that other university academic programs might dictate. "Design Academy Eindhoven allows the freedom to study and experiment in all related fields." She didn't want to be limited by a dogma of specialisation, and is interested in scientific studies, but the course allows her to take an open, experimental and innovative approach. Faculty members are in a supportive role, to teach technique and guide the path of study chosen by the student.
"The epidemic inspired me to connect creativity and inspiration through dance and movement. I noticed how people are often afraid or self-conscious about movement, often claiming that they might be shy to dance in front of or around others". Every kind of movement is a little interpretive piece of a whole, connected by the same cue to trace the participants movements into a digital format and thus, created a new dimension to the dance, an interaction between the body and technology.
Open curriculum
Still figuring out what her area of focus will be, Carly Zegers appreciates that DAE has opened opportunities for students to learn and choose a career path. She already had a degree and was working as a graphic designer when she decided to go back into education. "I didn't want to sit behind a computer for 40 hours a week. I wanted to do more hands-on work."
Zegers wants to use design skills to do something good for the world and chose DAE because it offers design with a human-centred approach. Instead of focusing on a title like, 'product designer', 'photo- grapher', 'architect' or 'fashion designer,' all of those aspects are built into an open curriculum where students can choose for themselves. The faculty guides students in their working and thinking method, rather than taking a pre-determined course.
Zegers feels she is teaching herself more than relying on her teachers to give her the information. Within workshops and studios there is project-based and collaborative learning, and students are empowered toward self-exploration–reading, learning and experimenting with materials and practising and developing specific skills.
A recent assignment was to work within a restriction–she assigned herself the task of "giving a hard material a soft character," and decided to work with concrete (as it is inexpensive, weather resistant, and sustainable) and made a side table.
"What inspires me is listening and speaking to how people, especially non-designers, react to design. I like to interact with my community. I like to compare interests of people from different places. I find it interesting to work with people to understand why they make certain choices or preferences, and how a design might impact them. Being a designer is about understanding how people are using, responding to and connecting with or receiving an experience."
Emerging technologies
Sina Grebordt is interested in emerging technologies and evaluating how we use them to live in more meaningful ways. Before applying to DAE, Grebordt learned from a friend that design was not simply about designing products, but solving problems and thinking strategically, which are qualities she saw in herself.
Faced with the constrictions of the pandemic, Grebordt created a project around how to engage the body when using a computer. Part of the project involved making special wearables as a kind of 'work uniform' with two-dimensional shapes which a computer camera can recognise and map, to reconsider how we are using computers to embody our own natural movements.
Grebordt would like to pursue a Master's degree and go into research and development linked to technology and work academically. She would like to understand a broader, 'big picture view' of the implications of emerging technologies, particularly human impact, with a focus on interaction or strategic design, system thinking, and people and technology.
Grebordt encourages future design students to be honest with themselves and try to seek out the places and experiences where they can contribute and grow. "It is beautiful to see younger students finding their own design language. The beauty of Design Academy Eindhoven is its enriching experience with a huge variety of interests."
Want to read more about Dutch Design? You can find interesting articles like Modern Dutch Design and De Stijl Movement on our website.
About the author
Hannah Behrens is a freelance writer, editor, poet and writing coach. She writes a blog, weedsandwilderness.com, leads Weeds and Wilderness Creative Writing Meetup in Amsterdam, and is currently working towards her PhD in Expressive Arts Therapy.