ACCESS NL > Features > Modern Dutch Design – ACCESS Magazine 2021
Modern Dutch Design – ACCESS Magazine 2021
2021-04-09 | By Jacqueline Pemberton
Simple, inventive, original and fun design is an integral part of life in the Netherlands. The country has a long, rich and complex design history, but what exactly is Dutch design and what makes it so special?
Daring to be different
"It's not for nothing that the Dutch came up with the saying, 'God made the world, but the Dutch made the Netherlands,'" says one of the country's most prominent designers Wieki Somers. "We live in a small country where every tile is designed. We stole our land from the sea and built (and designed) our own country."
High-tech landscape
As you descend through the grey, low-hanging clouds into Amsterdam's Schiphol Airport (which itself, along with the underground train station, is a model of clean, high-tech, simple Dutch design), it's easy to see why. Appearing gradually, the landscape below almost resembles a giant circuit-board–a never-ending criss-cross of intersecting fields, windmills, dykes and grid-like apartment blocks. But there is a remarkable order to it all.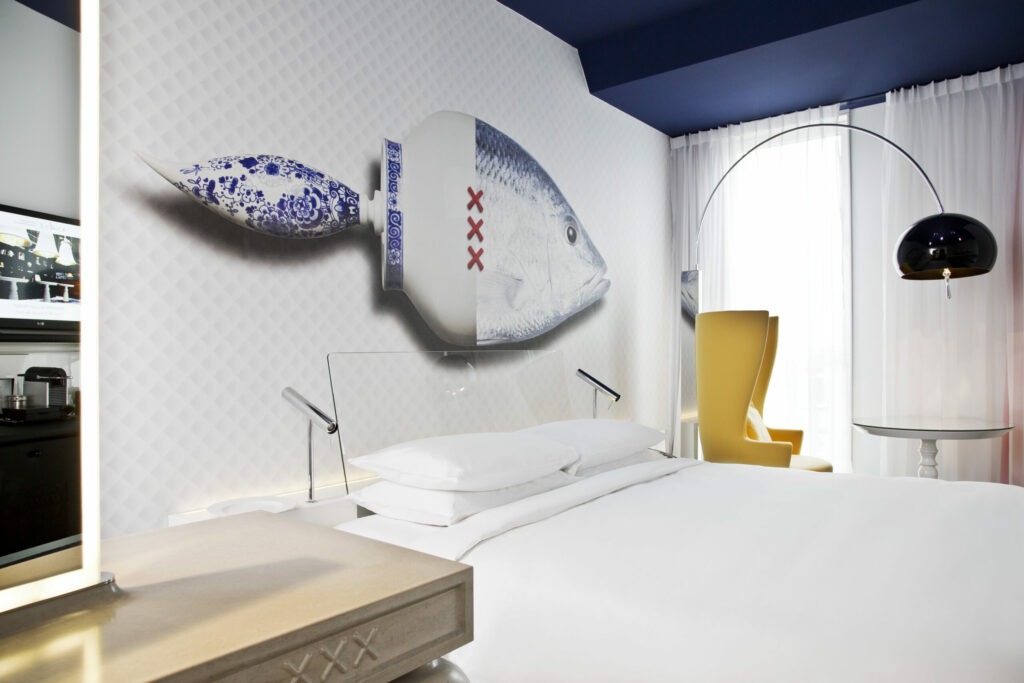 As writer Rodney Bolt alludes to in his tongue-in- cheek book Xenophobe's guide to the Dutch, "The Dutch character is inseparable from the Dutch landscape. The Netherlands is so flat that even black and white cows stand out as silhouettes against the skyline. Consequently, the Dutch are used to wide horizons and lots of light. Openness, freedom and vision are fundamental."
De Stijl
The seeds of modern Dutch design were sewn with Se Stijl–an abstract art movement founded in Leiden in 1917 by the artist, writer, and poet Theo Van Doesburg (see Art article in this issue). Artists including Piet Mondrian and Gerard Rietveld founded as a reaction to the turmoil and devastation of World War One and a rejection of the economic and material values of the time. They were as philosophical as they were artistic, using abstract lines, primary colours, and shapes to peel away the outer layer of reality and expose the purest elements of art, universal truth, and artistic harmony within.
Attitude is everything
Although modern Dutch design is based on a number of conceptual design principles typical of the Netherlands (such as concept, innovation, experi- mentation and minimalism) that revolves around the Design Academy Eindhoven and arguably contains traits of the Dutch national character, Dutch design is more of an attitude than anything else. As maverick Dutch designer Maarten Baas says, "There is nothing unique about Dutch design. Good design is every- where, and maybe the concentration is greater in the Netherlands because of the design academy, and because like-minded people attract each other."
Beautiful imperfection
Born in 1978, Baas is an independent artist and a designer who, at his studio Maarten Baas studio, likes to push boundaries with his unorthodox approach, earning him the nickname 'Bad boy of Dutch design.'
"I like to challenge assumptions, rules and fixed ideas," he says, "It's easier to do that in design than in fine art because there are more rules to question in design. It's a language that communicates my thoughts better."
His work has been described as bold, surreal, and intense, with a touch of cabaret thrown in, and many of his playful, colourful items evoke a beautiful childlike imperfection.
One of his most striking pieces is the Schiphol Clock: a hyper-realistic performance art piece in which a man appears to be trapped inside a clock and forced to repaint the second hand, endlessly on a loop.
His blue dungarees are a reference to the "faceless men who clean and work at the airport." While the yellow rag in his pocket–and the red bucket he carries–are in homage to Mondrian and Rietveld.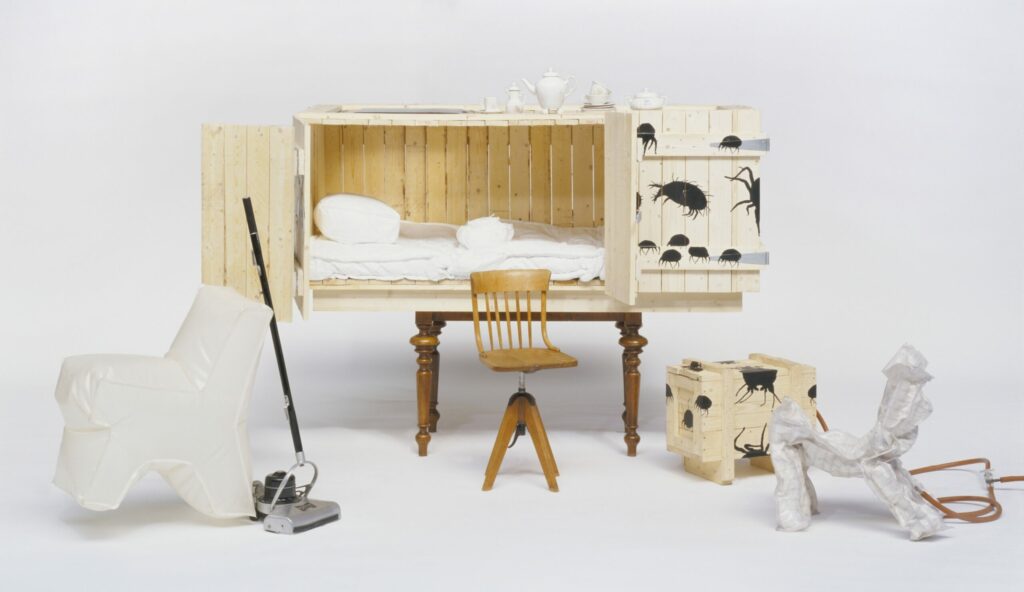 ---
Dutch Design Week
DDW is the largest annual design event in Northern Europe. It begins on 16 October 2021.
More details are available at ddw.nl

---
Timeless Beauty
Like Maarten Baas, Wieki Somers, born in 1976, began her design journey at the Design Academy Eindhoven. Now working with her design partner, Dylan van den Berg, at her Rotterdam studio (Studio Wieki Somers), her work can be described as poetic, experimental, and timeless. "We create products that evoke wonder and silence, that are critical but not loud. We awaken the hidden qualities in ordinary objects and invite people to look at their everyday reality with new eyes."
Many of Somer's designs are also imbued with a gentle, whimsical, dreamlike quality. Such as her surreal Merry-go-round Coat Rack, in which a coat rack transforms into an ingenious, fairground-like carousel that functions as a permanent coat rack, at the Museum Boijmans van Beuningen in Rotterdam.

Playful and serious
Although Dutch design is renowned for its playful, irreverent tone, there is a more serious message behind it, based on sustainable design principles, and an aversion to overproduction and overcon- sumption. Issues which are now even more relevant than ever during the current Covid-19 pandemic.
As Somers explains, "The crisis makes it possible to implement changes more quickly and make the transition to a sustainable economy with much lower CO2 emissions. We need to change, the Corona crisis has shown that we can change, but how will we do it sustainably, how will this crisis affect our behaviour, and our living environment?"
Known for his highly conceptual work Jurgen Bey (1965), a seminal figure in Dutch design, says,
"I really feel that we are going to move in this direction and usher in a new era of behaviour and language."
Bey, who is a proponent of the 'slow movement', (a cultural movement that rejects the notion that
faster is always better, and our culture of convenience and disposable packaging), says he originally wanted to be a vet. However, after visiting friends who were studying at the Design Academy in Eindhoven, decided studying design "might be quite nice as well."
Among his best-known designs is his classic Tree Trunk Bench, a sleek, Dutch design classic that sees a fallen tree trunk used as a bench, complete with elegant bronze backrests. And his EarChair, a playful, sturdy, eye-catching piece (with elongated ears) that offers cocoon-like privacy and intimacy in a public setting. He first appeared on the design scene at the now legendary Salone del Mobile international furniture fair in Milan in 1993, when he and a handful of young, talented, and down-to-earth former students of Design Academy Eindhoven such as Marcel Wanders,
Hella Jongerius, Tejo Remy and Richard Hutten took the event by storm when they presented their conceptual, offbeat and down-to-earth designs under the Dutch design banner Droog.
Droog Design – A new

 

way

 

of

 

looking
Droog, which means "dry" or "wry" in Dutch, refers to the dry humour, humble sensibility, and playful aesthetics that characterises much of their work, where high- and low-tech materials combine with story- telling. The event was a spectacular success, earning both Droog, the designers, and the Design Academy Eindhoven international acclaim virtually overnight.
Speaking of a later exhitibiton in Milan in the 1990s which featured both Droog and the design label Moooi, the creative director of Marcel Wanders, Gabriele Chiave says, "There were many exhibitions in Milan, but the most inspiring were the Dutch–all of them. Everyone said, you have to see Moooi, and at Droog there were also a lot of super cool things that inspired designers beyond their functional blinkers."
Embracing the past designing the future
Surreal, alluring, provocative, seductive, and exciting are just some of the words used to describe Marcel Wanders' designs. One of his most famous creations is his iconic Knotted Chair, which was one of the most talked about items at the Milan show, and which was pivotal in launching his career.
Consisting of carbon rope, knotted by hand, the chair combines old-fashioned craftsmanship with modern industrial manufacturing and is, according to Wanders, "strong enough for a heavy guy to sit in." A work of art in its own right, it is now on permanent display at the Museum of Modern Art in New York.
With his studio Marcel Wanders Studio and his design label Moooi, Wanders is now a rock star of the Dutch and international design world.
But it was not always so, as during first year at college he was classed as unteachable and kicked out of the Design Academy Eindhoven for rejecting the modernist design philosophy of the time.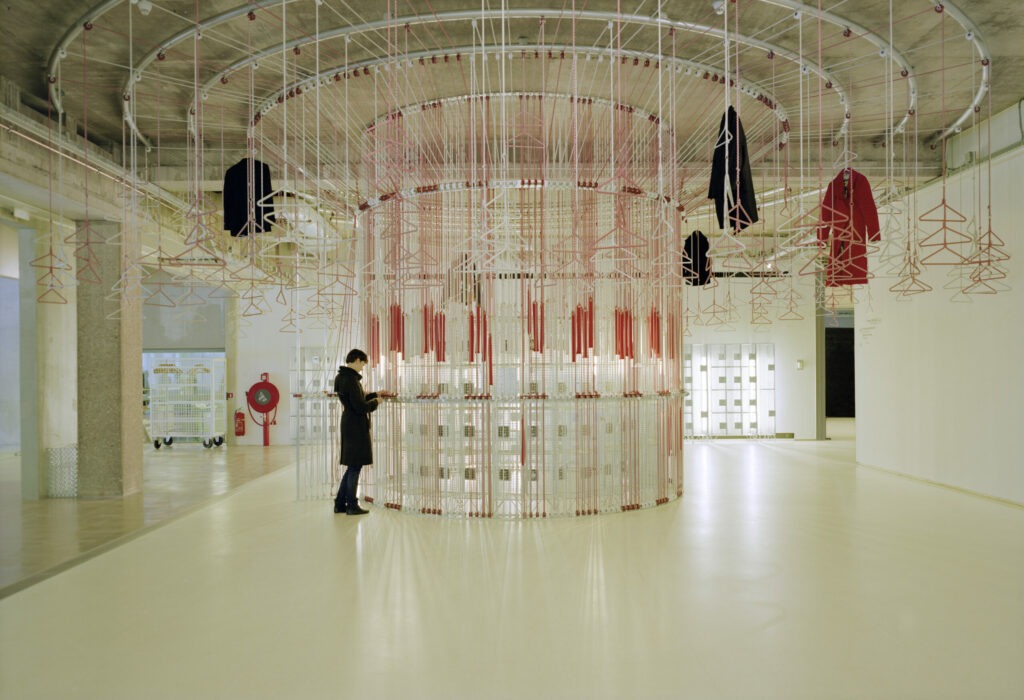 But he refused to give up on his dreams and finished his design education the Arnhem Academy of Art, where he graduated with honours and has not looked back ever since.
Today, under the creative direction of Chiave (1978)–who brings with him his Italian charm, flair and pizzazz to the studio's eclectic mix – the duo aims to bring back a human touch to design.
Rejecting the modernist notion that the past is irrelevant, the studio wants customers to connect with their products, so they are less inclined to throw them away. As creative director Chiave says, "let's take a breather. We need to adopt a 'less is more' philosophy–and not less is more like thirty years ago, but less in the sense of less quantity and more quality. For example, if you're a designer launching chairs and sofas every six months, there's no quality behind the project, the thinking, the concept or the production."
Optimistic
Clearly, Dutch design is a paradox. It is functional yet beautiful, compliant yet sophisticated, simple yet complicated, sober yet colourful. And while it may not be everyone's cup of tea, one thing is certain, it won't be ignored.
And while the world may have moved on from 1993 when a talented group of grungy, Dutch creatives first wowed the world with their clever, quirky creations, issues like climate change, social unrest and sustainability remain firmly on the agenda.
You can be sure that Dutch designers, are taking it all in stride and continuing to say to themselves, "Can't we do it another way?"
Click here to learn more about Modern Dutch Design in our Spring/Summer 2021 magazine.
About the author
Jacqueline Pemberton is a British-Australian freelance writer living in the Netherlands.