ACCESS NL > Features > Between the Sea and the Sky
Between the Sea and the Sky
2023/11/02 | By | Photo by Jimmy Nelson
Amongst other things, the Covid-19 pandemic forced all of us to endure travel restrictions. But if you are a photographer–who has always challenged his own limits to reach the farthest, most unexplored lands to capture the essence of indigenous communities–then that restriction takes on a whole new meaning.
Jimmy Nelson (UK) has travelled all over the world with his camera, capturing cultures and experiences of tribes which resulted in masterpieces like Before They Pass Away and Homage to Humanity.
When travel was not possible, Nelson transformed the limitations of being stuck at home into an opportunity. This was a new project on his doorstep and made him realise he did not need to travel to the ends of the earth to discover human beauty. "I am immensely grateful for it. I discovered a world that would otherwise have remained closed to me. It has left me feeling like I belong somewhere, no matter how much I have travelled the world." [source: Olaf Templeman in de Volkskrant – September 18, 2022]
Between the Sea and the Sky is the result of this research throughout the Netherlands, his adopted homeland for 30 years. The book chronicles the story of 20 traditional Dutch communities, adorned in characteristic dress amidst a rich and diverse environment. Seaports, dunes, and windmills are the background for the groups portrayed in their traditional clothes, revealing their Dutch identity as people shaped by landscapes at the mercy of water and weather.
Light
Nelson employed a handcrafted analogue camera–built for him by engineer Alessandro Gibellini–for this project. Following in the footsteps of Vermeer and Rembrandt, his work represents the crisp northern light. The atmosphere is 'romantic' with depth and contrast created by the natural light of the Netherlands.
The 20 regions presented are introduced with a bilingual Dutch/English description, offering a historical and geographical perspective alongside intriguing titbits. For instance, did you know that the Rolling Stones concert in Scheveningen in 1964 ended in utter chaos after just four songs? Alongside such fun facts are also legends, myths, spells, and symbols from these diverse regions.
People
As Nelson's journey continued through these communities, he discovered a striking resemblance to the world's remote indigenous groups: a shared sense of community.
While this may appear lost in modern, individualistic society, it comes out when people put on traditional dress and recall their common roots. When visiting the inhabitants of Katwijk or Marken, "I did not proceed any differently than I did with the Papuans," says Nelson. "First, I want to get to know a community well and build a relationship of trust with the people I am going to photograph. I do not just want to look at a place, I want to feel a place. My work is mainly known to young people, but they told their parents who I was and persuaded their grandparents to come in front of the camera as well. After a while I started getting calls: 'Jimmy, you have to come tomorrow, then you will get to see something special!'" [source: Olaf Templeman in de Volkskrant – September 18, 2022]
Tess Zondervan, one of the girls who posed for the project, captures the magic that happens when wearing traditional clothes. "It feels like I have been lifted out of my own shoes and dropped into the clogs of my ancestors. When traditional clothes gradually begin to take shape on my body, layer by layer, pin by pin, one thing becomes clear–I am not wearing these clothes, they are wearing me–just like we wear all Marken's stories and secrets." [source: Between the Sea and the Sky – A photographic tribute to the Netherlands by Jimmy Nelson]
Values
This book is a tribute to the tradition, heritage – and ultimately culture – of one of the most progressive and inclusive nations in the world. A nation which sometimes may seem to have forgotten its own roots, but these values are still a fundamental part of of Dutch pride and openness. "May we all, like the Dutch, continue to stand tall and proud for generations and benefit from the sea's infinite possibilities whilst being protected by the immeasurable blanket of the sky above." [source: Between the Sea and the Sky – A photographic tribute to the Netherlands by Jimmy Nelson]
Between the Sea and the Sky – A photographic tribute to the Netherlands by Jimmy Nelson is available to purchase online and in bookstores. The American Book Center in The Hague was kind enough to provide us with a copy of the book for our review. The American Book Center (ABC) is an independent, family-owned bookshop with stores in Amsterdam, The Hague, and Leidschendam. The ABC offers an assortment of books, magazines, greeting cards, diaries, notebooks, and merchandise as well as self-publishing services.
If you want to know more about The American Book Center (ABC) click here.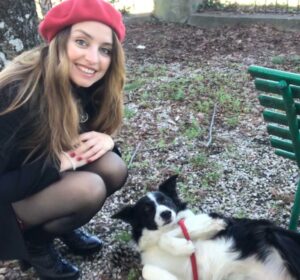 Did you know?
This book comes with a complementary app that enhances the reader's experience by enabling them to scan images and unlock exclusive videos hidden behind them.
About the author
Giulia Quaresima has lived in the Netherlands since 2018 and soon after, she began collaborating with ACCESS. Her passion for sharing her insights on books has grown ever since.