ACCESS NL > Features > Winter wonderland
Winter wonderland
2022-12-27 | By Bianca Pellet | Photo by Unsplash
Temperatures have dropped and evenings are drawing in. This can only mean one thing: the festive season has arrived. This time of year brings an array of Dutch delicacies to the fore. Let's check out what tasty treats you can enjoy over the holidays.
Go nuts
Kruidnoten and pepernoten are frequently confused, so let's clear things up. What is often referred to as pepernoten are in fact, kruidnoten–tiny gingery (slightly peppery) hard cookies that the Pieten (Sinterklaas' helpers) lob at children when Sint comes to visit.
Pepernoten on the other hand are large, chewy, cube-like concoctions with a liquorice-like taste, thanks to the aniseed they contain. Kruidnoten are sometimes covered in chocolate whereas pepernoten – arguably the more traditional form of the sweet – never are. Both are addictive, though! Another tasty treat from the Sinterklaas season is the chocolate (chocolade) letter. Distributed on the eve of Sinterklaas arriving (Sinterklaasavond or Pakjesavond), these individual initials (in various flavours) are a must-have. Did you get one?
Cosy cheers
If spiced tea isn't your thing, how about spiced wine? No festive season is complete without the long-standing tradition of Glühwein (spiced/mulled wine). Usually made with red wine infused with cinnamon, cloves, and dried fruit, the fragrant Glühwein is served warm. There are many variations across Europe but the version from German-speaking countries is most well-known in the Netherlands. You will find Glühwein at festive markets and in cafés over the holiday period, and into the new year.
Tasty tidings
Internationals who have become part of a Dutch family network will be aware of the savoury delight that is gourmetten. It is much like fondue, and although gourmetten is wider ranging, the principle of cooking together at the table remains the same although there are also a few other similarities. Think tiny pans – not just for meat and raclette, but also for random sauces and side dishes, like mushrooms, peppers, and pineapple. Chuck in lots of wine and baguettes and there is clearly something for everyone which is why this is a firm festive favourite in Dutch homes. Although there is a fair amount of preparation required – and it takes a while to get the smell out of your clothes – the conviviality of cooking together at the table (and avoiding the stress of one person being stuck in the kitchen doing everything) is clearly appealing.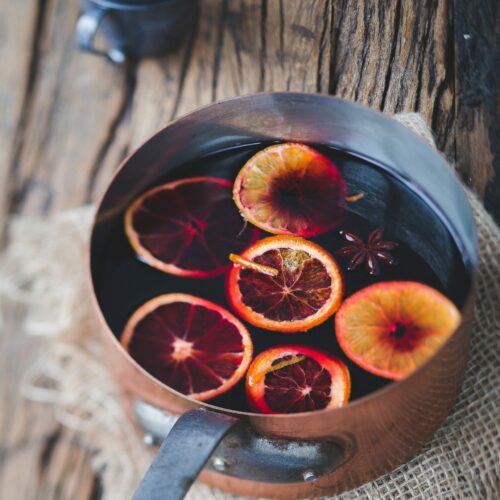 Pud life
For those of us in the Netherlands who might be longing for an equivalent to Christmas pudding, the kerststol – a sort of Dutch Christmas bread – comes close. If you are a fan of panettone, you will likely enjoy kerststol too. Kerststol is packed with mixed fruits, vanilla, spices (mainly cinnamon and ginger) and orange and lemon zests for that festive feel. Like the banketstaaf, a roll of marzipan is also eased through the kerststol before the entire thing is baked and dusted with icing sugar. Many eat a slice of kerststol with butter, but it is just as lovely on its own – though again, a cup of spiced Christmas tea wouldn't go amiss.
Happy holidays
While Dutch cuisine is perhaps not world-famous, it has plenty of Yuletide treats that are worthy of celebration. Whether you have a sweet tooth that needs satisfying or just fancy a communal cook-off, the Dutch festive season has it covered.
Fijne kerst en gelukkige nieuwjaar!
Did you know…?
Most people in the Netherlands eat an average of eight oliebollen per year.
In the 19th century, Sinterklaas letters were made from dough and were laid on a sheet covering gifts to let children know which were theirs. In the 20th century, Dutch manufacturers started making the letters out of chocolate. Dough letters are still consumed in the Dutch settlement of Pella, Iowa (USA) today.
Want to learn more about Dutch Winter traditions?
Please click here.
About the author
Bianca Pellet is a writer and English teacher from the UK. She has lived in France and the Netherlands since moving away from Britain in 2008.