ACCESS NL > Features > The road less travelled
The road less travelled
2023-01-11 | By L.T. Hitchcock | Photo by Sander Korvemaker
American poet Robert Frost once wrote "Two roads diverged in a wood and I – I took the one less traveled by, and that has made all the difference." 

The more travelled road is not the one that sparks animated conversation amongst friends and colleagues, makes for the ice breaker, lingers in the memory, or gives that breath of fresh air. Indeed, it is this other road, often not taken, that we must venture down to discover the different, the quirky, the other.
When it comes to the Netherlands, it should be of no surprise that this part of the Lowlands has its fair share of delightful oddities, from the outré to the downright bizarre. A nation that likes to go outside and enjoy itself, this is, after all, a country where once a year it is deemed normal that near everyone dresses head-to-foot in orange and sells unwanted junk in the street. A country that has many a festival dedicated purely to the tasting of herring. Where a cultural norm on 1 January is to sprint into the freezing cold North Sea wearing just one's speedos (preferably orange) and a woolly hat advertising tinned soup, all for the glory of queuing up–shivering–for some of said pea and ham soup (vegetarian options available). So, let's take a look at some of the other celebrations that make even these look a tad passé, and will give you a glimpse into another Netherlands you may not yet have experienced…
Comic-Con (Heroes Dutch Comic-Con), Utrecht
Who does not want to be in a world where Negan from the Walking Dead is holding hands with Frozen's Elsa? 
From its humble origins with a couple hundred teenage comic-book fans in a downtown San Diego hotel, Comic-Con was initially quite the niche event. Fast forward fifty years, it is now a staple entry in many countries' diaries, and one of the most diverse and quirky tickets in town.
The Netherlands' own entry takes place annually (pandemics aside) at the Utrecht Jaarbeurs, an airport hangar-sized trade fair venue. Clichéd as it sounds, there really is a little something for everyone at these events–whether on the look-out for an autograph from the hero of that cult seventies' sci-fi series you loved; a Q&A panel with a star of your favourite show; or a performance from some outrageous YouTube sensations. Other highlights include heroes' workshops, lessons on (special) effects and comic illustration, gaming tournaments, a readers' lounge, and enough merch stands to bring out the big-boss geek in anyone. There is also speed dating… How else do you think Negan and Elsa hooked up?
Come as you aren't
There is no doubt that cosplay has become the headline act of such events in modern times. At the 2022 festival–held in November–contests, catwalks, fan meetups and cosplay dances were all possible. The message was loud and clear: be what and who you want to be, no judgement, only joy and acceptance.
Whether you took part in cosplay competitions or merely strutted your stuff around the auditorium–in the words of someone who is no stranger to dressing with freedom and abandon–the occasion allowed you to be a hero, just for one day.
The next Heroes Dutch Comic-Con is due to take place at the Utrecht Jaarbeurs from 19–20 November 2023. For the 2022 edition, weekend tickets for adults cost €49.50 (€29.50 day price). Children up to and including five were free. Family package, youth discounts (ages 6–12) and VIP tickets were also available. For more information click here.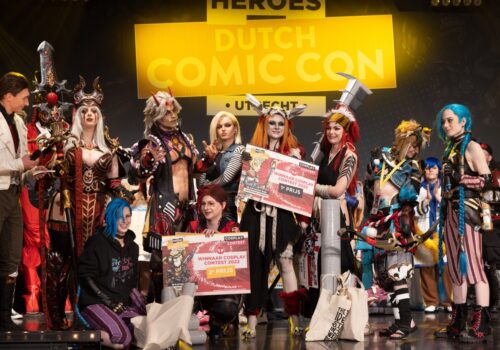 Dickens Festival (Dickens Festijn), Deventer
For many, the winter season has certain boxes that need to be ticked. Christmas Trees, Turkey dinners, festive films, and eggnog. For many more, this list would contain ghost stories in front of the fireside. And the master of such was arguably the late and great Charles Dickens. In December, the city of Deventer morphs into a traditional 19th century English city for a weekend, allowing you to travel back to such glorious nostalgia with its annual Dickens Festival. Cancelled for the previous two iterations, it came back with a bang this year, celebrating its 30 years anniversary. The event saw just shy of 1,000 characters from Dicken's classics escape from the page and be made corporeal, transporting visitors back to the Victorian era of Dicken's own lifetime.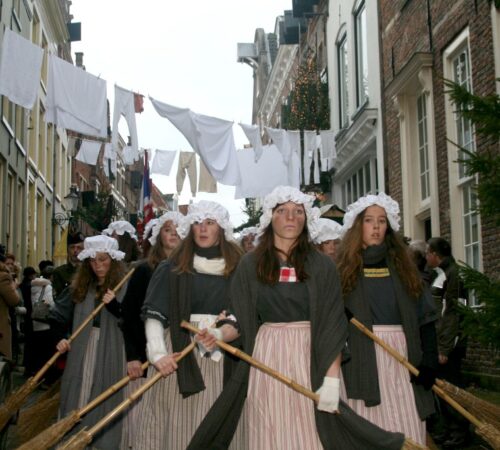 Best of times from the worst of times
They say that necessity is the mother of invention. The highlights for the festival this year encapsulated such with the inclusion of the inaugural audio tour through the Deventer streets. The audio tour, suitable for the young and the old, was an innovative response to last year's cancellation, and this year could be used in real time to walk through the narrow lanes, acting as a backdrop to famous Dickensian stories as you passed. In addition to this, there was the traditional Dickens walk that could be done at one's own pace, as well as the Christmas Concert (Deventer Kerststad), which is held on the final day of the festival. The action was to be found primarily in the historic Bergkwartier. Interested, but impatient for next year? Then check out the Charles Dickens Kabinet, an exhibition of all things Dickens housed in the atmospheric settings of a former women's prison (open all year round on Saturdays 12:00-16:00, admission €2, tours available).
The Dickens Festival took place on the 10 and 11 December 2022 and is due to return in 2023. Entrance is free, but with many visitors again expected, make sure to allow for crowds and waiting time. For further information click here.  
Vlöggeln, Ootmarsum
And then there's this one.  Imagine a festival with the sartorial leanings of Peaky Blinders, fused with the esoteric vibe of the Wicker Man. And when you have that image, then imagine things getting weird . . .
This is an Easter tradition in the town of Ootmarsum in Twente. Every year, a few valiant souls put themselves forward to be a Paaskerel–or 'Easter Guy' (be sure not to mistake the first 'a' for an 'o' on Google Translate; no-one would want that job).
The criteria to be one of these fellows appears to be quite strict: a Catholic of around 20-years-old, who has no intention of getting married within the next four years. Punishments for breaking this agreement are unclear. But Wicker Man, right? Anyway, the tasks for these young men are relatively straight forward: walk hand in hand through the cafés and houses of Ootmarsum, decked in long beige coats, black trousers, and trilby hats, partaking in the odd drink along the way, all the while singing Easter ditties. They conclude their service in the market square, where chosen children await to be thrown up in the air (and, one can only assume, caught).
Who in their right mind would not want to experience this? Vlöggeln is an annual event at Easter in Ootmarsum. For more information, follow this link.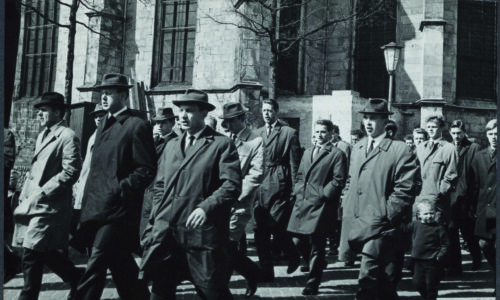 Is that all you've got?
Absolutely not. This is of course not an exhaustive list of the idiosyncratic goings-on, just a taste of the alternative to whet your appetite. Another few–amongst many–you may consider include the Leidens Ontzet, better known as the 3rd October festival, where the citizens of Leiden are handed out free white bread and herring in celebration of Leiden's 16th century liberation from the Spanish. A must see if you want to experience what happens when an entire city starts drinking beer from 6am.
If none of this sounds unusual enough for you, then maybe check out Pole Sitting (Paalzitten) – a genuinely competitive sport that has nothing to do with Max Verstappen but involves competitors, yep you have guessed it, sitting on poles. On a chair. In the water. Until they fall off. Okay, perhaps not the most thrilling of spectator sports, but you're kind of intrigued, right? Claimed to have been invented in the province of Friesland, it is apparently making something of a renaissance from its world championship beginnings along the Roelofarendsveen. Be warned, the world record is 92 hours, so take some snacks.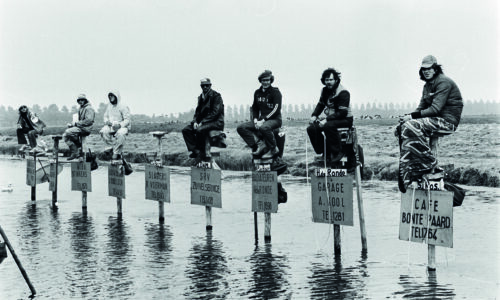 Castlefest – now into its 18th iteration proclaims itself as 'the fantasy festival of the Netherlands.' Created with a pagan sensibility, the festival is a mixture of LARP (Live Action Role-Play), live music, and a whole range of other fantastical activities. Think Glastonbury meets Lord of the Rings for a superficial idea. The 19th edition of Castlefest will take place in August 2023. Book early so that you don't miss the chance to really step into another world.
There is no shortage of fun to be had in the Netherlands, regardless of age or inclination. So, keep putting on those orange hats, swallowing that fish, and beating that hangover with a dive into the icy sea; but, if you are looking for something a little different, then also consider taking the road less travelled, and seeing where it leads you…
Did you know?
Robert Lee Frost (named after Confederate General, Robert E. Lee) was an American poet but his work was initially published in England before it was published in the United States.
About the author
L.T. Hitchcock has been in the Netherlands for over a decade and is passionate about writing and literature. He lives in The Hague with his partner and daughters and loves to enjoy Scheveningen beach life.