ACCESS NL > Features > It started with a dog named Sunny
It started with a dog named Sunny
2023/10/16 | By Molly Quell | Photo by Ron Baltus
In 1935, Sunny began accompanying a blind brush maker in Amsterdam to and from the factory where he worked. The 10-month-old Malinois mix was the first graduate of what would become the Koninklijk Nederlands Geleidehonden Fonds – KNGF (Royal Dutch Guide Dog Fund), the first guide dog school in the Netherlands. Today, nearly 1,000 dogs from the organisation help people with visual impairments, physical disabilities, PTSD, and autism.
Although dogs had been used to assist people with disabilities since at least Roman times, the horrors of the First World War brought guide dogs for the blind into more common use. Chemical weapons used during the conflict left thousands of soldiers with damage to their eyes. The first school for guide dogs was established in Germany in 1923, and the use of such dogs spread across Europe.
Royal treatment
The Dutch Red Cross saw the benefits of guide dogs and moved to establish an organisation in the Netherlands. In 1935, then Princess Juliana officially opened the KNGF. Now known as KNGF Geleidehonden (KNGF Guide Dogs), the non-profit organisation was given the "royal" designation after a second visit from Juliana in 1953, who was by then the Queen.
Initially, the dogs were rescues, with trainers stopping by an animal shelter on the Polderweg in Amsterdam practically daily to see if a suitable dog had turned up. Eventually, the KNGF developed its own breeding program and now works exclusively with Labrador Retrievers, Golden Retrievers, German Shepherds, or a crossbreed of the three.
"Dobber looks like a wolf," says Esther, who has a German Shepherd/Labrador mix. The six-year-old is large for a guide dog, which Esther says can be a benefit when she's in a crowd.
Esther, who has a genetic condition that has caused her to lose her sight, can see some light and dark shades but, without Dobber, would struggle to negotiate the outside world. In fact, having a guide dog allowed her to move from the small village where she grew up to Amsterdam, where Dobber gets her back and forth to work and serves as an ambassador for KNGF.
Good clicks
A person applying to the KNGF for a dog must meet certain criteria, and the average wait time is around 18 months. According to Margot Bakker-de Bruin, a communications advisor at KNGF, matching dogs to people isn't as simple as taking the next person on the waitlist. "There has to be a good fit," she says.
Trainers look for complementary personalities and lifestyles between pairs. Everything from the environment – Do they live in a city or in a rural area? Do they use public transportation for travel? –to something as simple as walking speed are among the factors considered.
Puppies spend the first 14 months of their lives with volunteer families, who expose the dogs to various situations and teach them basic commands. Then the dogs move to the training facility at KNGF in Amstelveen where they learn the regular tasks that they will be expected to do.
Guide dogs for the visually impaired are taught intelligent disobedience, essentially ignoring any command from their owner if the dog deems the action too dangerous. Dogs generally prefer to obey their owners so learning how to block someone's path if they are walking into an unsafe situation can be challenging.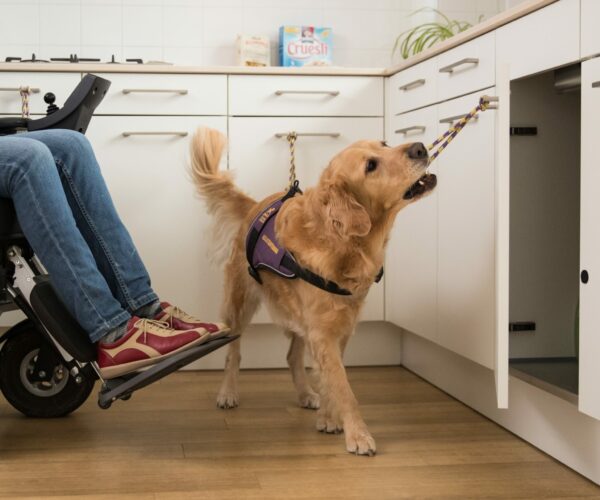 In service
In its 85-year history, the KNGF has expanded from helping blind veterans to training dogs in providing other types of assistance as well. The organisation also works with dogs who will go on to be service dogs for people with mobility issues, autism, and PTSD. Some service dogs are better suited for helping wheelchair users with basic tasks like retrieving items and pushing buttons. Other dogs, with an especially calm demeanor, can help people suffering from post-traumatic stress disorder. Most recently, the organisation has begun to train dogs to help children with autism.
Not all dogs are cut out to be service dogs. The dogs who cannot be trained to the organisation's high standards are placed for adoption. "Sometimes, for example, they simply cannot be trained not to react to cats," says Bakker-de Bruin. The waiting list for a guide school dropout is long as well.
If a dog becomes too old or develops a medical condition that prevents them from doing their job, the KNGF will find the retiree a home. Some guide dog users are able to keep their former helpers. Esther's first dog lived with her until his death at the age of 14. "She could stay until the end," she says. If it's not possible for the dog to stay on, they often live out the rest of their days with a foster family.
On average, it costs €40,000 to breed and train a guide dog. That fee is only partially covered by health insurance. The organisation is entirely reliant on donors to support its mission. People who want to support the KNGF can do so by donating or volunteering as a foster family for puppies or dogs who have retired.
About the author
Molly Quell is an American journalist based in Delft. She is The Hague correspondent for Courthouse News Service and a contributing editor at Dutch News. When not working, you'll find her enjoying a beer and hanging out with her dog Trouby. Twitter: @mollyquell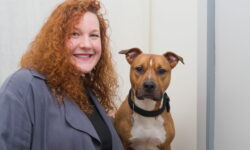 Did you know?
In the first year of training, dogs are exposed to many different experiences including interacting with people, children, and animals, and negotiating busy streets, railway stations, shops, and noisy traffic.
If you want to learn about the Dutch healthcare system please click here.