ACCESS NL > Features > Education: International week at Eerde
Education: International week at Eerde
2021-02-23 | By Eerde International Boarding School
As part of a continuous effort to promote cultural diversity at Eerde International Boarding School Netherlands, students and staff celebrated our third International Week in October.
The week began with an online presentation from Save the Children. This school year our community will embark on raising funds through various projects, and will donate this toward Save the Children's work with underprivileged and malnourished children worldwide.
Other events during International Week included listening to a playlist of our national anthems, an exhibition of Covid posters, and a language café where we tried, and laughed, learning words from around the world. But the highlight of the week was our International Pot Luck lunch. The foyer was set up with tables, flags and dishes with delicious food from different cultures, all made by students and staff. We had food from 16 different countries! It was a beautiful way to come together.
Eerde's Upper Primary investigated what 'International Mindedness' means. A wonderful brainstorming led to ideas from all students–respect, care, being aware of differences, and respecting different cultures, ideas, beliefs and traditions, but also having a strong sense of identity. The students realised the importance of being open-minded, adaptable, flexible, curious, respectful, moral, ethical and thoughtful. They created a mind-map which is now visible in the Primary hall area. Their second task was to make a drawing, a logo or an illustration of what 'International Mindedness' means to them. The students produced some amazing art.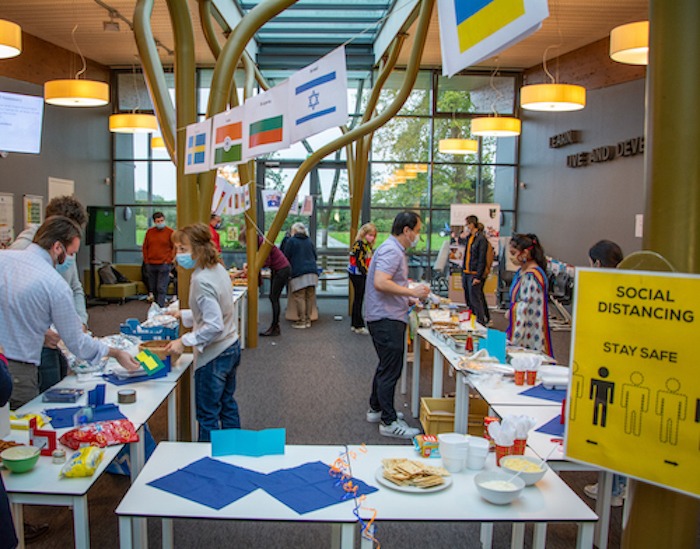 ---

Learn, Live and Develop
To learn more about Eerde International Boarding School, please contact the admission professionals at +31(0) 529 451 452 or admission@eerdeibs.nl
---
In connection with International Week, Lower Primary also worked on 'International Mindedness,' and discussed what it means to be open minded, to cooperate and to show respect. They made a quote to demonstrate what the concept means for them, and a garland with flags representing their different backgrounds–not only a beautiful decoration, but showing that we are all part of an international community.

We are proud at Eerde that while we are a small school community, we also have over 22 nationalities. We are a school where all are welcome and celebrated– truly a home away from home.
Click here to learn about International education in the Netherlands.