ACCESS NL > Features > Dutch plant-based: Blooming delicious
Dutch plant-based: Blooming delicious
2020-12-18 | By Kim Mcclure
A plant-based culinary adventure around the Netherlands.
There was a time when truly great vegan restaurants– the kind that don't trade health for flavour–could only be found in capital cities. Luckily, this is no longer the case. There's now a lush spread of plant-based restaurants across the Netherlands that meet, if not exceed, the standards of their urban counterparts.
Real food in Rotterdam
The best thing about Sue Food is that even if you can't get to their gastronomic home in Rotterdam, you can order treats online. Sue Food is known for deliciously sweet dessert squares to be nibbled alongside a Coffee Company cappuccino. But Sue (the owner and founder) also has a bakery in Rotterdam, full of her freshly-made refined sugar-, gluten- and lactose-free and vegan products. Find more information, or order online on their website.
If you're looking for a fully plant-based feast, restaurant Gare du Nord is another of Rotterdam's finest vegan eateries. Housed partly in a refurbished train and partly in a garden and terrace, is casual with careful attention to detail. The meals are 100% plant-based, and made with mostly organic and sustainably sourced ingredients. Book a spot next summer here.
All plants in Amsterdam
It's no surprise Amsterdam has a crop of vegan restaurants, whether you're craving a junky spread or in need of a lighter, healthier gastronomic experience.
You can't go full vegan in Amsterdam without a visit to the Vegan Junk Food Bar. It's charm is that nothing has been spared in replicating the fast-food experience. The 'chicken' and 'beef ' burgers are juicy, with all the toppings you'd expect, and the fries are fresh, crispy and hot. More at veganjunkfoodbar.com
For a little more refined vegan, it has to be Mr & Mrs Watson. This delightful spot in Amsterdam Oost offers a range of exceptional vegan cheeses (yes, that's right) which can be enjoyed with a glass of champagne in summer on the terrace or snuggled in the cosy restaurant with a glass of red in winter. Award-winning cheeses range from Pepperjack to Apricot Cumin to Camembert. For comforting, simple, taste-forward meals, visit watsonsfood.com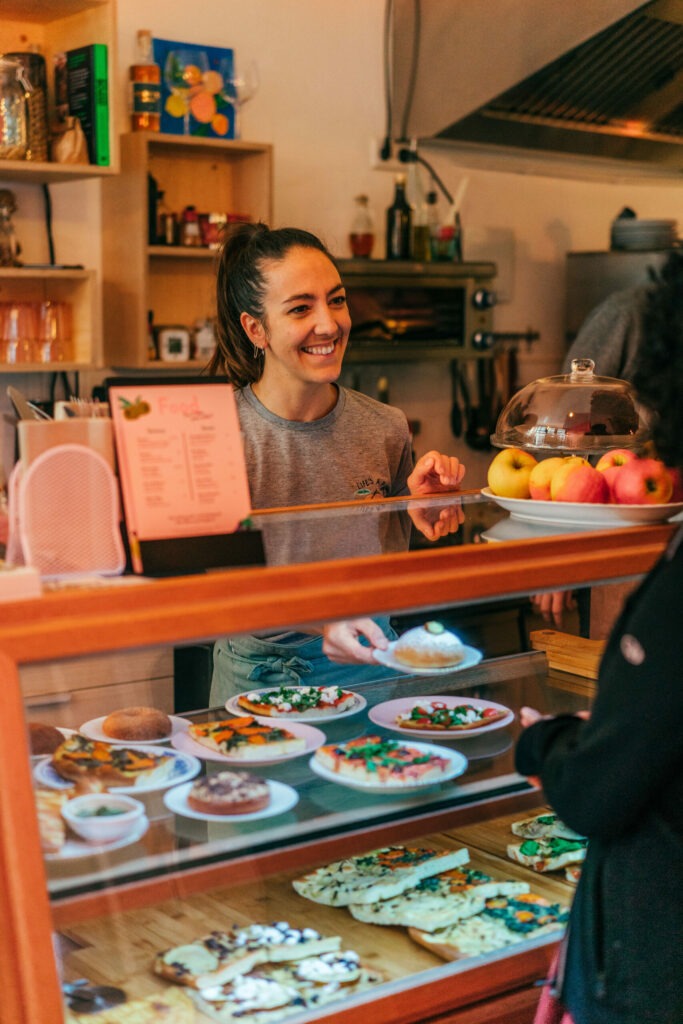 Healthy hotspot in Haarlem
Work up an appetite wandering through Haarlem's famous square, picturing succulent burgers, crisp 'no-fish' and chips, and a fudgy chocolate brownie to finish. They're all on offer at New Vegas.
This concept bar and kitchen showcases the possibilities of vegan food, with twists on familiar favourites. Taking inspiration from global cuisine this planet-friendly food never sacrifices taste. The menu also includes 'veganised' traditional Thai dishes. Taste something special at new-vegas.nl
Oodles of veg in Utrecht
Utrecht's enchanting medieval centre is quickly becoming a humble gastronomic destination.
Life's a Peach is as sweet as the name suggests and offers a range of luscious Italian plant-based dishes. Their specialty is fresh, topped focaccia, ideal for a high-quality, low-fuss lunch–made with mostly locally-sourced ingredients and a low-waste attitude.
The flexible menu at Van Planten keeps surprising, making it one of Utrecht's vegan favourites. The dedicated team also supports a range of animal welfare charities, which makes a visit more than guilt-free. Ingredients are hearty and full of flavour: think lentil curry soup, 'cheesy' nachos, spinach crepes with spicy pumpkin and mushrooms croquettes. Book online or order here.
Eating well in Eindhoven
When a passion for taste and a respect for plant-based ingredients come together, beautiful things can happen–at Bij Albrecht in Eindhoven. Founders, Bernadette and Manfred, work with seasonal ingredients to create Dutch-inspired cuisine to create vegan food you'll keep returning to.
Creativity is at the core of their mission. By experimenting with local ingredients and constantly elevating the plant-based experience, it rivals any meat-based meal, but with a lower carbon footprint. Reserve or find out more at bijalbrecht.nl
Going green in Groningen
By the time you get to Groningen, maybe something lighter is in order? This student town is bustling with the Netherlands' next generation, but also home to future-thinking eateries.
De Herbivoor is, as the name suggests, a herbivore's dream. You can eat well and feel good afterwards, and this charming salad bar takes care of both. The diverse menu of organic, seasonal and plant-based wraps, soups, pancakes and more has something for everyone, and a slice of cake to finish. Pick your favourite by visiting this website.
There's never been a better time to explore the vegan culinary landscape of the Netherlands. The cuisine may have been built on meat and dairy, but the future of Dutch food looks much more vibrant and vegetable-based. Chefs, cooks and bakers are applying as much creativity and innovation to vegan food as any other– and the results are blooming delicious.
Want to learn more about Dutch food? Please click here.
About the author
Kim McClure is a copywriter and writer living in Amsterdam.