ACCESS NL > Features > BSN: The Leidschenveen Campus
BSN: The Leidschenveen Campus
2021-03-19 | By BSN
If you haven't been to Leidschenveen recently, you may be surprised to find that it is now home to The British School in the Netherland's (BSN) newest school. Senior School Leidschenveen opened the doors of its stunning new facilities this September.
The whole family on one campus
Leidschenveen is the first of the BSN campuses to house both a Junior and Senior School. In combination with Zein Childcare The Willows, the educational needs of the very youngest, right through to the senior students can be found on one site.
For students, this means a smooth transition between Junior and Senior School and improved pastoral care. Teachers will be able to form a bond with students from a young age and support them as they get older.
"Having both schools on one site creates a special sense of security," explains Admissions Manager Christine Matthews:
"People like the idea that their children will move with the friends they have made in Junior School to the Senior School," she says.
"Likewise, if they've got three children and they're all on one campus, they can cycle to school together."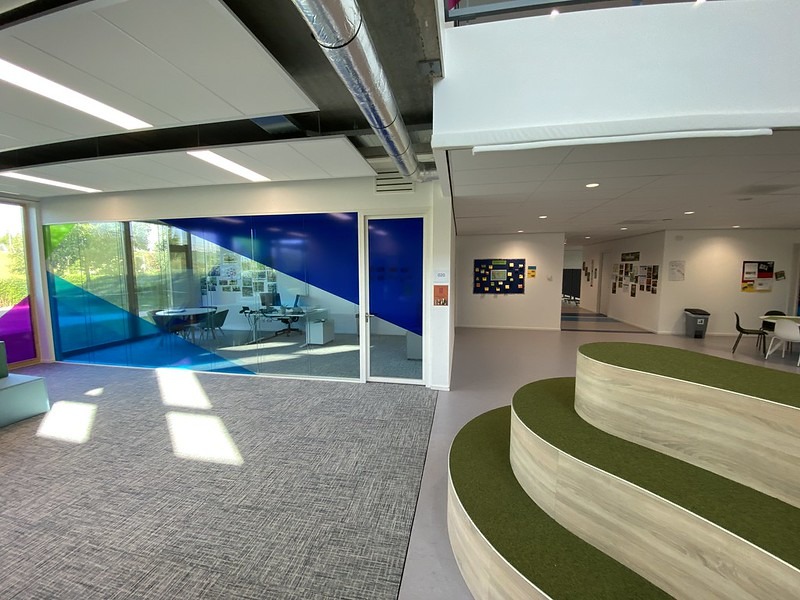 New campus, built on 90 years of experience
The students get to enjoy the excitement of being in a completely new building. However, they still benefit from the quality, results and governance that comes from the British School's 90 years' experience as a top international school.

Cradle to Cradle School
Many sustainable elements have been incorporated into the 'Cradle to Cradle' Senior School in Leidschenveen, enhancing energy performance and using reusable or recyclable materials where possible. With designs that incorporate the latest flexible learning spaces, some of the exciting facility developments are a fitness room, new sports hall, canteen and landscaped grounds. This gives the students the green space and freedom missing from many city schools.

Places available
The new Senior School is currently open to Years 7, 8 and 9. In September 2021, Year 10 will be added. Eventually the campus will offer the full curriculum up to Sixth Form.
Places are currently available in all year groups. For admissions into The British School in The Netherlands, please call 070 315 4077 or email admissions@britishschool.nl
You can also read more about International education in The Netherlands.