ACCESS NL > Features > Feeling at home in The British School community
Feeling at home in The British School community
2023-02-17 | By The British School in The Netherlands | Photo by BSN
Anyone who has moved, or joined a new school, will remember that unmistakable feeling of being new. It can be an exciting time, but like all adventures, there can be challenges, too. There are no shortcuts through this transition period. However, feeling accepted and developing a sense of belonging within a community can go a long way towards building the confidence necessary to explore new horizons and opportunities in a new environment.
A community effort
At The British School in The Netherlands (BSN), a core part of our mission, and a constant throughout the school's 90-year history, is our strong community. The impact of this community is felt in the engaged alumni body.
In our community of nearly 90 nationalities, many students, families, and staff have had similar experiences and understand the difficulties of integrating into a new place. They also know first-hand the importance of a warm welcome and every group in our school community contributes to a supportive environment for newcomers.
Supporting the whole family
The BSN's Family Association and International Representatives play a vital role in organising workshops and social activities to bring everyone together. New and returning families benefit from sharing information, meeting new people, and building a support system across the school.
Beyond the school community
To achieve our mission of preparing young people to become successful global citizens, the BSN ensures a strong community grows within and beyond our campuses. We believe our school should exist in partnership with the local community and international network.
International sports
In 2021, The British School partnered with the Nederlandse Rugby League Bond (NRLB). The team practised at the Voorschoten campus, and students had the chance to participate in coaching and refereeing courses. This October, the school hosted an international rugby match – the first of its kind held in Voorschoten – between the NRLB and the German national team.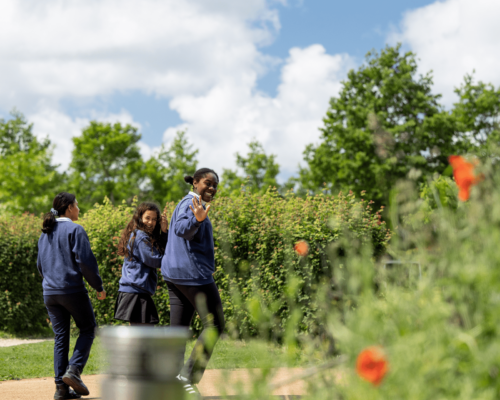 Connecting internationals to The Hague
The BSN was honoured to host The Hague International Centre's 'Feel at Home Fair', the first in a community location. BSN CEO Heath Monk said, "This event was so important in helping members of our community to connect, which is also a key part of our mission as a school. We were delighted to welcome all international residents and organisations to our Vlaskamp campus."
Strong connections empower future global citizens
As an international school, providing a caring community – especially when students first join us – is paramount in ensuring they can explore the full range of opportunities at the BSN – and in the Netherlands – while secure in the knowledge that the community is there to support them.
Contact our friendly Admissions team via Admissions@britishschool.nl or call + 31 (0) 70 315 4077.
If you are new to the Netherlands, click here to learn about international education in the Netherlands.