ACCESS NL > Features > NAISR: An Exciting New Chapter
NAISR: An Exciting New Chapter
2019-06-19 | By Nord Anglia International School Rotterdam
Nord Anglia International School Rotterdam is more than a school. It is a warm and thriving community where each child is nurtured to become the best version of themselves.
Nestled in the leafy suburb of Hillegersberg, Nord Anglia International School Rotterdam (NAISR) was founded sixty years ago as a co-educational day school for internationally-minded expatriate and Dutch families. The school's most exciting chapter yet commenced nine months ago, when NAISR (formerly the American International School Rotterdam) became a member of Nord Anglia Education, the world's leading premium schools organisation. As Neal Dilk, Director of the school for the past seven years, says:
"Joining the Nord Anglia family in July 2018 was a momentous occasion for this international school in Rotterdam. Our ambition is to seize this wonderful opportunity by aligning the quality of the school's educational offering with NAE's global norms, whilst also retaining the warm and welcoming culture that make the school so special and unique."
One of the school's first areas of focus was on refurbishment, with significant investment planned in the facilities from now, ramping up through the summer of 2019. Major improvements are in process for the playground, maker-space, reception area, and more. Meanwhile improved lighting, some fresh paint and updated signs have given the school a brightened aspect.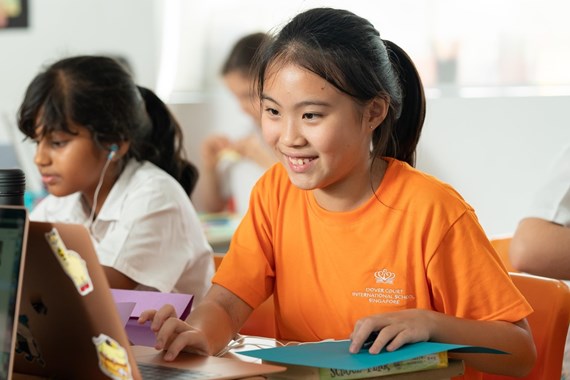 Mr. Dilk says, "New facilities are fantastic, and our families are delighted about these. However, the truly unique opportunity with Nord Anglia Education is in the learning opportunities it provides. Our students are instantly linked via Nord Anglia Education's Global Campus to over 60,000 other students around the world to collaborate, exchange and learn together. Additionally, NAISR teachers now have access to Nord Anglia University, a digital platform which offers access to an extensive range of professional development resources."
NAISR is currently laying the foundation and training teachers to be able to offer Nord Anglia's STEAM program (Science, Technology, Engineering, Arts & Mathematics), co-developed with the world-leading Massachusetts Institute of Technology (MIT). This leading-edge educational programme trains students to tackle challenges and solve real-world problems with a broad, multi-disciplinary perspective.
This exciting new chapter in the school's history is a welcome addition to Rotterdam's international school offering, and there is no better place to learn more than to visit their brand new website. Also don't forget to look out for our beloved Shark mascot, which received a fantastic makeover with just the right amount of "fierce-fication."
Nord Anglia International School Rotterdam is thrilled to be part of delivering on Nord Anglia's commitment to supporting every child in being the best they can possibly be, by delivering high quality, transformational education that goes above and beyond traditional learning. NAISR's engaging, welcoming and inclusive environment is one to watch as it continues to go from strength to strength.
---
If you would like to learn more about NAISR Rotterdam, you can contact the Admissions Team on admissions@naisr.nl
You can read more about Dutch school system and learn about international education here in The Netherlands.