ACCESS NL > Features > Access is accessing
Access is accessing
2022/11/23 | By Olivia van den Broek-Neri | Photo by Unsplash
As the world strives to be more inclusive, how are bicycles and cycle paths helping create an equal society and making life more accessible for people with different physical and/or intellectual abilities.
Severinus is a healthcare organisation in Veldhoven (North Brabant) for people of all ages with intellectual disabilities. The organisation uses several bicycle types enabling clients to experience the pleasure of cycling, including special bikes for those who are perhaps unable to cycle on their own. "We offer duofietsen (a side-by-side cycle), three-wheelers, and tandems," says Hannah van Duivenbode, Volunteer Coordinator, "which allow the client to sit in front and be able to see what's happening." Hannah points out that such bicycles take a lot of skill to manoeuvre because the person who is steering the wheel is sitting behind. "It's our colleague who is doing the main workout," she says. Although the duofiets is electric, the tandem bicycle is not. However, it is possible to connect two duofietsen to each other which means one of Hannah's colleagues can cycle with three clients at one time. "In such cases, you really need the electric support," she says. "It's way too heavy to cycle on your own." 
Severinus clients who are wheelchair bound are also able to experience a bicycle ride with the aid of a wheelchair bike that has a flat space in front of the bicycle, allowing a wheelchair to be attached. At Severinus, this type of wheelchair bike is used for those who are severely handicapped, giving clients the possibility to enjoy the freedom of a bicycle ride. "To be outside, feel the wind, hear the birds…" Hannah explains, "and to have the experience of going faster than if someone were just in their wheelchair." However, too much stimulation is also not good. "For some clients, it is overwhelming to be outside or to see/experience things for more than 15 to 30 minutes."
Severinus also works with volunteers who accompany less severely disabled clients on bicycle rides. How far they go is solely dependent on the client but most importantly for Severinus is that all their clients get to experience cycling just like everyone else.
We go together
Getting around is different the world over. The designated cycle paths in the Netherlands allow people to go from point–to–point without an automobile. "The lovely red pavement that makes cycling so easy has become a common space not only for able-bodied individuals but also for those of us with physical limitations," says Melissa Bruntlett, Urban Mobility Advisor and Advocate at Mobycon (an independent consultancy firm for mobility issues). "It's not just people who are on two, three or four wheels anymore–you see people in walkers and using mobility scooters on cycle paths too."
Cycle paths are for everyone and contribute to putting us all on a level playing field. "We forget that people with disabilities can be 'invisible'," says Melissa. "But when you see someone on a bicycle or tricycle in a more 'traditional location', you don't automatically think of them as mobility challenged."
Cycle paths give such individuals a freedom that they might not have in other parts of the world, allowing those with a disability to get around without necessarily being dependent on others. "It comes down to autonomy and freedom of movement," says Melissa. "And we all want that."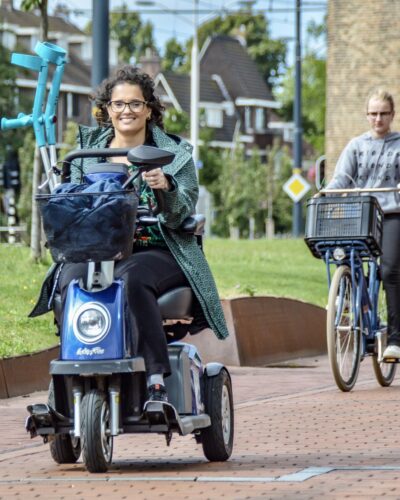 Freewheeling
The possibility of getting around without an automobile attracts many internationals. "Being able to bike everywhere here makes our lives really easy," says Nuno Curado–originally from Portugal and currently living in Eindhoven.
After living in the Randstad (Amsterdam-The Hague-Rotterdam-Utrecht region) and enjoying the accessibility the Netherlands offers to those without automobiles, Nuno returned to Portugal. One of the things he missed most was that ease of mobility.
When Nuno and his family returned to the Netherlands in 2019, his daughter was one-and-a-half-years-old, and he had a request. "One of the deals I made with my wife was that she had to buy me a bakfiets," he says. Nuno had his heart set on a bakfiets (cargo bike) because he wanted to take his daughter places, and a bakfiets would ensure that she would not only be comfortable but have space for her belongings.
Nuno got his bakfiets and has enjoyed using it to get around and travel with his daughter, taking trips to the market and–during the height of the pandemic–being able to take her exploring outdoors. "We spent our time cycling around and visiting areas near our home."
Some people still insist that they need an automobile for certain journeys. But in Nuno's personal experience, "there is always an excuse, but it is perfectly possible to carry stuff on your bike."
Aside from transporting his daughter, Nuno also uses his bakfiets for big purchases. "I once bought a 40-inch LCD plasma screen and brought it home on my bakfiets," he beams. "With time, you just adapt to being able to carry everything on your bike. You are walking, and the bike is carrying the stuff for you."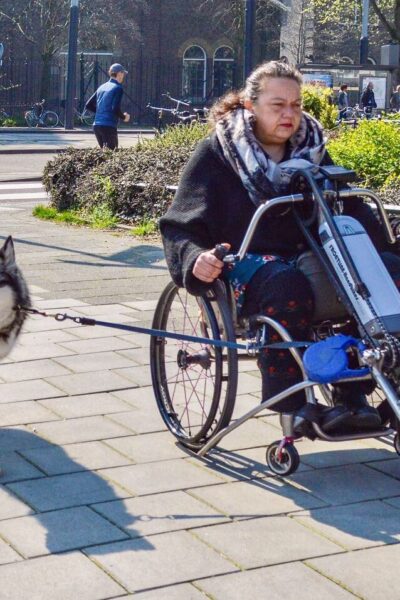 On the open road
But what about those who cannot walk. How do they navigate getting around?
"My mobility issue grew with time because of the progressive nature of multiple sclerosis," says Maya Levi. A few years ago, Maya landed in a wheelchair but the cycle paths in the Netherlands have enabled her to maintain her independence. "I started using them because I got a scoot mobile for the first time," she says. "This was a real eye-opener for me as I had not experienced the cycle paths before because I was not cycling."
The possibility to use a scoot mobile on cycle paths is an enormous emancipation–not only for people with a disability but also for the elderly or anybody who has mobility challenges, says Maya. "If you have a scoot mobile, you can really do everything by yourself."
Maya uses her scoot mobile in her daily life and a bicycle for leisure–a sport wheelchair that has a lower back and another wheel that you connect to the front. "You access the wheels with your hands instead of your legs," she explains. This special bicycle also allows Maya to experience nature. "I love the fact that there are cycle paths in nature areas too," she says. "This is something that is so unique to the Netherlands."
The Netherlands is making progress when it comes to facilitating accessibility and providing mobility aids for the those in need. Next time you are biking, perhaps you'll look differently at fellow users of the cycle paths.
Did you know:
There are over 22 million bicycles in the Netherlands–compared with approximately 17 million residents–and 20,000 kms. of cycle paths.
Find out more:
Click here to learn more about how inclusive really is Dutch society?
 About the author:
California-native Olivia van den Broek-Neri works as Project Coordinator Communications & Events at Holland Expat Centre South in Eindhoven and was previously an ACCESS volunteer.