ACCESS NL > Features > Book Review: V!VA Tools for Well-being
Book Review: V!VA Tools for Well-being
2016-02-23 | By ACCESS
V!VA. Tools for Well-being
By Katarina Gaborova | with Photographs by Vikram Anil Vyawahare and Conny Mages, Petrabooks, 2015.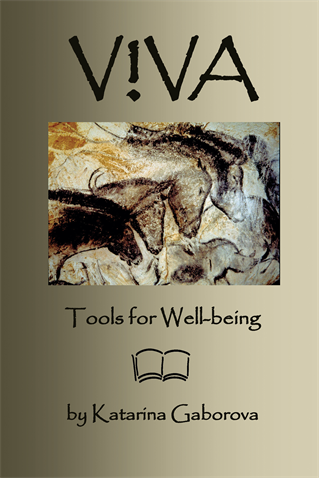 The aim of this book is to motivate people especially when going through change and unexpected life circumstances.
Katarina Gaborova, a psychologist and life coach with her own practice in The Hague, wrote this book as a response to her clients' needs to have some easily accessible information and inspiration in addition to her therapy. With this book she "provides a psychological suggestion or concept to overcome a particular issue" and motivates the reader to bring out his best.
She deliberately chose to focus on three main topics: Inner strength, Physical Wellbeing and Relationships. The 40 very short texts are all accompanied with beautiful natural images by Anil Vyawahare and Conny Mages, and Katarina Gaborova's own inspirational poetry, which help to memorize the message. Reading this book is very similar to reading flash cards. In fact, by referring to the chapters of the book as cards in the introduction, the author anticipates that the book will soon also be available in format of a deck of cards.
In these cards Katarina Gabarova helps you to "love yourself" (p.1), "know your strengths" (p.5), work on "your path" (p.11), "face your fears" (p.31), deal with "envy" (p.25) or "anger" (p.39) and become better at "letting go" (p.45). You will find some inspiration to achieve a healthy "life balance" (p.49), "reward yourself" (p.51) and "stand tall" (p.43). Or maybe you are looking for "new beginnings" (p.53) or would need to keep your "eyes wide open" (p.55), and work on your "sincerity" (p.61) and "harmony" (p.63)? You can also find some inspiration to improve your "communication" (p.65) and "connection" (p.81) with your partner, children and friends, be(come) more "nurturing" (p.71), show more "affection" (p.67) and "support" (p.79) and explore the benefits of non-verbal communication like a "gentle touch" (p.77) and "silence (p.69) – just to name a few of the topics.
You can easily choose the topic that speaks to you in the index at the beginning of the book and use the templates at the end of the book (p.85 ssg) to work towards your self-established goals (i.e. "What helps me stay positive & happy?" p.86, "Work/Leisure Balance" p.87, "Personal Strengths" p.88, "Personal Development" p.89 etc.). Finally, you can find book resources (p.100) a list of interesting websites (p.101), as well as a biography and testimonials at the end of the book.
The small layout of the book allows you to use it as an every-day tool to easily access positive reinforcement and work on personal growth, inner balance and happiness. – It can easily be used by parents, care-givers and teachers, and it can serve as an additional tool in therapy for counsellors, psychologists or social workers.
I warmly recommend this book to everyone who is looking for some verbal and visual support to enhance his or her inner balance.
Hard copy of the book can be ordered via Petra Books.
E-book also available on:
Ute Limacher-Riebold
---
Ute (PhD in Romance Linguistics and Literature) is an expat-since-birth. She is a language coach and trainer, an expert in bilingualism and expat life coach.
She offers courses on topics related to "Expat Life" and "Parenting TCKs (Third Culture Kids)", workshops for internationals and coaching support in English, Deutsch, Français, Nederlands and Italiano, and offers language coaching and training (German, Italian, French).