ACCESS NL > Features > Results of Survey 2013 : International opinion about Healthcare in the Netherlands | ACCESS
Results of Survey 2013 : International opinion about Healthcare in the Netherlands | ACCESS
2014-05-06 | By ACCESS
Healthcare is a subject that is almost always discussed among the International community. Along with education and living standards, it is one of the primeconsiderations that influence decisions about moving to a new country, and about whether to stay.
The following findings are based on research done in the last six months of 2013. It resulted in over 500 responses from all over the Netherlands, although people from English speaking countries in The Hague and Amsterdam are best represented.

The research was conducted by ACCESS together with International Health Services, an initiative that aims to provide healthcare to the international community, in cooperation with healthcare providers, by taking into account the findings of this survey. The research was sponsored by the International Health Centre in the Hague.
More than fifty percent of expats in the Netherlands,go abroad to seek medical treatment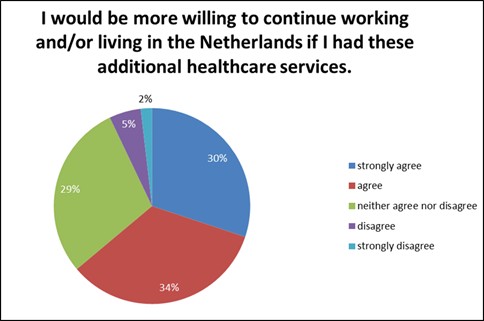 Although 83% of Internationals use Dutch healthcare, 54% still went abroad to receive medical attention. The most prominent concern was a lack of confidence in their doctor and almost 40% do not trust their doctor's judgement regarding treatments and a medical course of action. Only 32% of Internationals actually trust their doctor. The many accounts of internationals travelling back to their country to visit their doctor is worrying. As one participant said 'This is a system that is of little use to me. I am obliged to pay for it but have no sense of feeling that I am protected by it. Any healthcare issues at present are dealt with via return trips to the UK'. Almost 60% select 'A doctor that I feel I can trust and in whom I can feel confident' as a top-5 area for improvement.
Satisfaction and perceived quality are low
Only 23% are satisfied with the most important areas of healthcare and 37% say that their willingness to stay in the Netherlands is negatively impacted by their experiences with the health system. This is closely linked with the perceived quality of healthcare. 34% believe quality is worse than adequate or okay. With a minority – just 29% believing that it is good or excellent.
Access to specialist care
A common bone of contention between expat and GP's (General Practitioners) is with regard to seeing a specialist quickly and easily. 30% claim to have difficulties in agreeing with their GP on seeing a specialist, while 43% find problems with seeing a specialist quickly enough. 53% select "The opportunity to see a specialist doctor quickly and easily" as a top-5 area to improve.
Ease of language and ability to communicate
While the language capabilities of GP's don't seem to be a big issue, since many doctors speak good English, a third would like to see this improved. The lack of information and services available in other languages troubles many respondents. Sometimes this directly impacts the quality of care: As one respondent elaborates – 'My problems with the health care system has not been the GP services but the Consultatiebureau for my children's appointments. There was no information or correspondence in English' or 'There were no English speaking speech therapists available (for my child) which the insurance covered'.
Dutch insurance companies

A responsive insurance provider is mentioned by more than a third as a desired improvement. Less than 25% feel supported by their insurer, though this is better in the case of international insurance providers as might be expected. A responsive health insurance provided is listed as the 5th most important area for improvement.
What most respondents also felt was that while being registered with a local health insurance provider, they had no access to materials provided in any language other than Dutch.
A change from the 'go-home and take a paracetamol' approach
Just 21% find their doctor open-minded, while 40% positively don't. Many comments have been recorded regarding the 'wait and see' approach and the 'go home, take a paracetamol and rest' with some feeling ridiculed by this approach: 'If I go to the doctor, it is because I feel it is serious' said one participant. Alarmingly many others qualify this approach as 'just aiming to avoid cost'. 46% select 'An open-minded doctor who understands that when I take time to come for an office visit, some sort of treatment or plan for addressing my problem needs to be made' as a top-5 area for improvement.
Inflexibility and rigidity

Some find that Dutch healthcare focusses too much on cure and fixing a specific ailment while following a set protocol. There is little attention on prevention and looking at the complete picture and context of the person.'I have the impression that the approach of doctors is 'trial and error' rather than based on an understanding of the patient' another participant said. Another respondent voiced concerns about following protocol: 'There appears to be no natural curiosity or indeed knowledge to go beyond the standard diagnosis, which is very worrying and if your illness doesn't fit the guidelines, you will not get the treatment you need and will often have to suffer until it hits crisis level'.
Impact of improved healthcare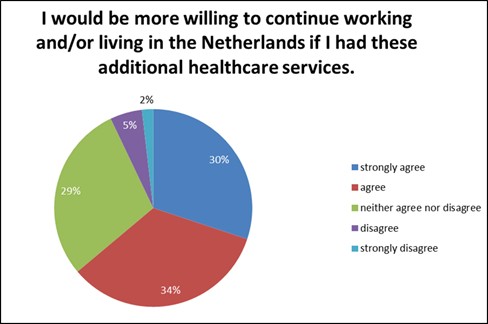 Over 80% would change doctors and travel at least 30 minutes to visit a practice meeting their top 5 areas of improvement. More than a third are interested in paying an extra fee for this. Responses were mixed as to who (else) should pay any additional costs for an improved international healthcare. 62% expect their insurance provider to cover additional costs. 64% agree with the statement 'I would be more willing to continue working and / or living in the Netherlands if I had these improved healthcare services'.
The figures in this survey are very revealing of the situation and concerning as Healthcare is one of the most basic rights that every resident should enjoy and should not be such a cause for concern. The direction of these findings are consistent with views and suspicions that many expats hold but what might be a surprise even for them is the very high numbers of people who feel this way.