ACCESS NL > Features > Mother Nature at True Colors
Mother Nature at True Colors
2015-07-13 | By ACCESS

First published in ACCESS Summer 2015 e-zine
Mother Nature at True Colors
Mother Nature is True Colors' playground. There is a corner in Rijswijk where children cared for by True Colors are encouraged to forage in the exciting discovery corners; chase in a game of hide-and-seek; splash about with water or study the creepy crawlies in the insect house.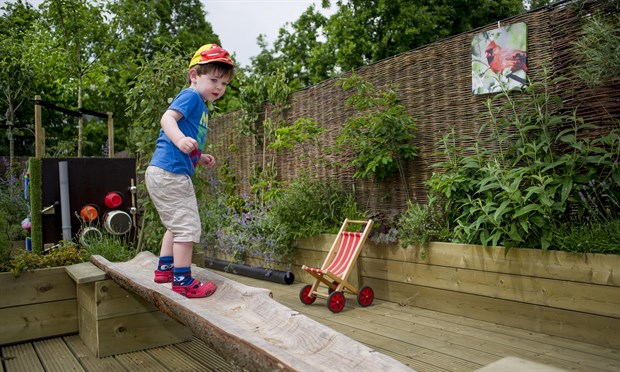 As soon as the sun comes out, the doors at True Colors slide open to a world of indoor and outdoor play and creative activity.
Nature at every step
Dining out in the picnic corner is a favourite for all the children. Even more exciting are picking fresh cherry tomatoes, strawberries or salad for lunch from the rooftop garden. Regina Stork, Manager at True Colors explains: "… we help children appreciate and enjoy nature and all it has to offer." And what about sleeping outdoors!?
At True Colors, weather permitting, children are able to sleep outdoors with all the benefits these have. In fact, even children who struggle to go to sleep often fall asleep more easily and also sleep for longer when they do so in the fresh air, bundled up cosy and warm. A practice common in Scandinavia, this is new to the Netherlands.
Added value
Children at True Colors are from parents work for international organisations and companies such as the European Patent Office and Shell. They all have busy jobs and a young family. Providing an early bird tasty breakfast is just one of the ways True Colors can help relieve some of the pressure on parents. Some parents find this very helpful, and for the children it forms a sociable and great start to the day. The children also get a hot meal at lunchtime.
The Netherlands is a country with lots of water. So the sooner children get used to it, the better. This is why swimming lessons are provided to children from the age of. It starts with becoming at ease around water and only later evolves into proper swimming lessons. There is also yoga, music and toddler's gym lessons and regular visits from a children's hairdresser complete the picture. Sound like home? Good. It is what we aim to be, a home from home.
---

True Colors is an international childcare centre in Rijswijk near The Hague. It has been serving the children of the local international community for over 10 years! Want to know more, feel free to visit and keep your eye on this space for updates on all we do.
T: 070 792 0270
www.truecolorschildcare.eu