ACCESS NL > Features > Mondrian Year: 1944-2014 | ACCESS
Mondrian Year: 1944-2014 | ACCESS
2014-02-07 | By ACCESS

Exactly 70 years ago, Piet Mondrian died in New York. His most famous work of art, the Victory Boogie Woogie, can be found at the Gemeentemuseum in The Hague.
It is a lozenge shaped canvas with yellow, red and blue square colour fields and is an entirely abstract work. When seeing the Victory Boogie Woogie, Barack Obama's first impression was: 'This is a fabulous one'.
Early years
Piet Mondriaan was born in Amersfoort in 1872. His father – a qualified art teacher, moved his family East for the betterment of his career. From an early age, Piet received instructions from his father in artistic development and he often painted together with his Uncle Fritz Mondriaan. Following in his father's footsteps Piet Mondriaan became an art teacher and developed a naturalistic painting style.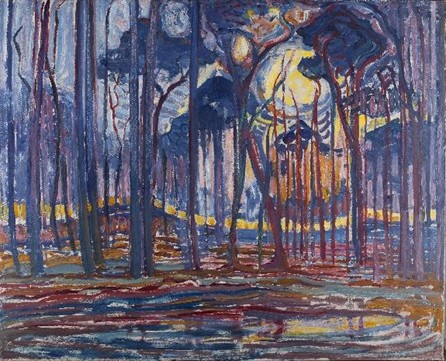 While initially looking for inspiration from the works of well-known Dutch contemporary painters Mondrian himself never painted landscapes as they did and was searching for his own style. He increasingly let go of the details in his paintings and focused on the shapes and contours of objects. Influenced by the French Expressionist movement – Fauvism, he experimented with the use of colours, abandoned conventional painting and reduced nature to shapes and colours.
Moderne Kunstkring
With Mondriaan's first exhibition (along with Jan Sluijters) at the Stedelijk Museum in Amsterdam, his fame began to grow. He was a board member of the Moderne Kunstkring (literally: Modern Art Circle), and on their behalf he visited an exhibition of the Société des Artistes Indépendants (a group in Paris ) where his work was on show. He was impressed by the vitality of the Parisian art world and by the innovation he saw. Back in The Netherlands he realised how sharp the contrast was and how he was steadily moving away from what was acceptable for conventional Dutch art lovers. Mondriaan then took a bold and brave decision. He broke off his engagement, and as a mature man of forty, left everything behind to move to Paris in December 1911.
Way to abstraction
In Paris, he almost immediately changed his name to 'Mondrian' and painted primarily landscapes. Under the influence of Picasso and Georges Braques, he reduced his scenery to shapes and lines and painted in monochrome colours. In July 1914, while visiting his father who was critically ill, the Great War broke out and he was thus stuck in the Netherlands. He then organised an exhibition of his most recent work at Walrecht in The Hague and these works reflected clearly the shift towards a new abstract reality.
Exhibition at Gementeemuseum, The Hague
Fourteen of the originally seventeen paintings can now be seen at the Gemeentemuseum -The Hague in a reconstruction of the 1914 show. This period is a crucial period because here Mondrian takes the first steps towards creating a new image and letting go of the figurative in painting, ultimately ending in the Victory Boogie Woogie. That is exactly what make the exhibition 'Mondrian and Cubism. Paris 1912-1914', currently on display at the Gemeentemuseum well worth visiting.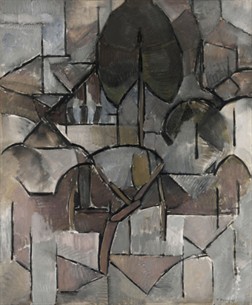 For information about guided tours of the exhibition, check the website of Casa dell'Arte