ACCESS NL > Features > Life in Limbo in the Netherlands by Kelly Merks | ACCESS Magazine
Life in Limbo in the Netherlands by Kelly Merks | ACCESS Magazine
2017-03-28 | By ACCESS
A note from the editor of ACCESS Magazine
Kelly Merks is the author of the cover story "New beginnings for migrants: people, stories, hope" in the Spring edition of ACCESS Magazine. Due to limited space in our print magazine, the author was unable to devote part of her story to the thousands of undocumented migrants who have not been granted asylum in the Netherlands. These are migrants who are not legally allowed to work, volunteer, or otherwise contribute to society. The following article is the supplement to the cover story, where the author raises awareness of these migrants' struggles. To read the cover story first, click here.
Life In Limbo in the Netherlands
By Kelly Merks
On March 15, Dutch voters went to the polls to have their say in the new Parliamentary government. Many media outlets in the Netherlands and other Western countries focused beforehand on the seeming ascendance of Geert Wilders and his Party for Freedom, or Partij voor Vrijheid (PVV). The day before the election, however, CNN International reported on refugees in the Netherlands who had been denied asylum by the authorities, and now live in what human rights groups call an "asylum gap."
To be denied asylum in the Netherlands is to be prohibited from legal work and study, and the government does its best to return whom they call "failed asylees" to their home countries. The refugees CNN talked to have had to adapt to a life in limbo under different circumstances, but the common view seems to be that the current asylum system does as much harm as it does good.
"When you come here they try to intimidate you," says Eric Bimule, a Congolese man who fled the Democratic Republic of Congo as a teenager after a militia tried to recruit him as a child soldier. "You're telling your story and they're saying, 'You're lying, it's not true.' That's hard. How can you tell me my story's not true? It's my story. I've lived this story."
Bimule has been living as an undocumented immigrant for 11 years, a resident of the so-called asylum gap. Refugees like him who are denied asylum are typically placed in temporary housing and given 28 days to arrange a return to their home countries. Some migrants claim asylum without legal documents, whether because they had to unexpectedly flee, the documents were destroyed at some point in their journey, or other situations. If a migrant cannot secure new travel documents from their home country's consulate or embassy, Dutch Immigration attempts to mediate. However, mediation is no guarantee of success for a safe return or an asylum permit.
As of 2016, an estimated 35,000 undocumented immigrants live in the Netherlands. More than 200 of them in the Amsterdam area are part of an organized collective called Wij Zijn Hier, or We Are Here.
In 2014, before migrants were a fixture in the news, a short article about We Are Here caught the attention of Dutch artist Manon van Hoeckel. After meeting the collective and following them around for a few months, van Hoeckel created the In Limbo Embassy, a meeting space for people to meet the undocumented migrants and learn about their struggles in a country that would not recognise or represent them.
"We talk about them, not with them," says van Hoeckel, who came up with the idea for the embassy after observing how those who wanted to help hesitated to enter the squatted building where the migrants ate and slept. To her, the In Limbo Embassy was to be a "neutral meeting space."
Some of the undocumented migrants became official ambassadors for the embassy, representing themselves and their community instead of a piece of land. The In Limbo Embassy also provided a means of action and a bit of income for this group who are not legally allowed to work, volunteer, or otherwise contribute to society.
"Because we weren't a 'real' embassy, but an art project, the work that the Ambassadors were doing was called a performance," says van Hoeckel. "This falls under the right of freedom of expression. Everybody is allowed to make art, even if you don't have documents. They were also allowed to sell printed matter in the public sphere, as long as it has a 'political' opinion. Selling printed matter falls under the right of freedom of the press."
Photo by Vera Duivenvoorden
Life in the Netherlands as an undocumented immigrant is often fragile. The Koppelingswet, or Linking Act, is a national law passed in 1998 that excludes any foreigner without a legal residence permit from use of social services. However, the law's intent and efficacy have been eroded by European and domestic court rulings, and now municipalities and private institutions may exercise some flexibility with some basic social services:
Schools are permitted, though not obligated, to enroll undocumented children.
Undocumented migrants are not allowed to buy health insurance, but they can access pregnancy care, vaccinations and preventative care for children, and health care in life-threatening situations and public health crises.
Undocumented migrants are not allowed to live in public housing, but municipalities can use independent judgement in offering reception facilities for certain migrants without permits, such as repeat applicants and "Dublin claimants"—asylum seekers whose application for asylum should be treated in another country as laid out in the Dublin Regulation of EU law.
From June 2015 to June 2016, the In Limbo Embassy traveled with two or three of its 10 ambassadors to 15 events in the Netherlands. The events ranged from debates, to Eindhoven's famous Dutch Design Week, to a cultural project in Amsterdam called "The Wall" during the Netherlands' 2016 EU Presidency. Van Hoeckel estimates about 1,000 people visited the embassy in total.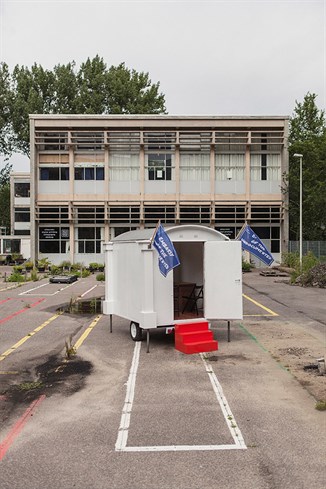 Photo by Hans Boddeke
The victory March 15 of the ruling VVD party was viewed in many circles as a win against a rising tide of far-right populism, but it is little consolation for the undocumented refugees who are trying to make a living in a country many are not able to work in or leave.
The ruling administration has been criticised by the UN's Committee on the Elimination of Racial Discrimination, which, according to Dutch human rights lawyer Jelle Klaas in the CNN article, is concerned about an "increase in hostility towards refugees and asylum-seekers" in the Netherlands. Prime Minister Mark Rutte published a letter in newspapers January 22, 2017, addressed to all Dutch people ("aan alle Nederlanders") that received attention for its simple but finger-wagging directive: "Doe normaal of ga weg" — "Act normal or go away."
Rhetoric aside, Human Rights Watch also points to "extensive use of detention for migrants and asylum-seekers, lack of safeguards in the asylum appeals procedure, and the lack of support for rejected asylum seekers who cannot be returned to their countries of origin" as serious concerns.
The In Limbo Embassy may not be able to steer public policy, but it can help bring the realities of undocumented immigrants' lives to more people living in the Netherlands
"The great thing is that after a talk with an In Limbo Ambassador, people tell friends and family about their experience. In that, we reached a lot more people," says van Hoeckel.
In Limbo Embassy from In Limbo Embassy on Vimeo.