ACCESS NL > Features > ISH: The tradition of cycling at ISH | ACCESS Netherlands
ISH: The tradition of cycling at ISH | ACCESS Netherlands
2016-06-20 | By ACCESS

First published in ACCESS Summer 2016 e-zine
by Juliette van Eerdewijk, ISH Principal Primary
High on my list of some of the amazing things people do and see in the Netherlands is that cycling is such a popular form of transport.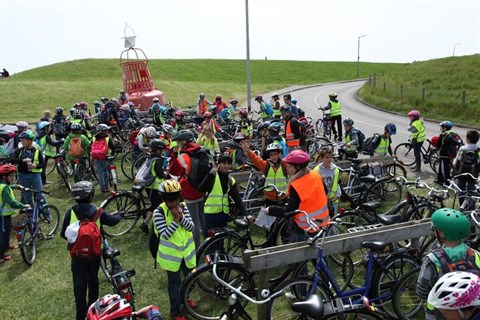 Cycling is concept that is alien to many countries, and it certainly was a positive aspect of returning to the Netherlands. It therefore is wonderful to see that so many expats take up the tradition of cycling to school. Every morning when the Principal of Secondary and I are outside welcoming the students and parents into the school, we see so many of our students and parents as well as staff cycling to school, including the 'bakfietsen' with the younger children. We encourage this form of transport as it is both positive for our bodies as well as the environment.
Dutch lessons about cycling
In our Dutch lessons the students in Primary learn about traffic and specifically about cycling. Bicycles are brought in for observation to promote and learn the language. The teachers also discuss the rules in traffic and areas cyclists need to be careful about, e.g., the blind spot for both trucks and cars. Keeping safe on a bicycle is the first priority.
Cycling camp in Texel
Our Year Five camp is a cycling camp where the children cycle around Texel. This allows students who may normally come to school by car to experience the pleasure of cycling. To support good cycling for the camp the children have practice sessions within the school playground to go around cones and follow instructions. Each year this trip is a big success.
In other news: ISH builds a new wing!
The International School of The Hague has been preparing for the exciting building of a new wing. Our new wing will cater for Reception to Year Four and will be specifically designed to support the outstanding learning practice that we have within the school. Our younger children will be able to continue with the dynamic learning environment which supports a free flow method and access to a speellokaal especially designed for our younger students.
The school wishes to have the same open feeling to the new wing as the current building. We are certain that we are going to have another amazing learning facility for all our students.
---
---

Wijndaelerduin 1
2554 BX Den Haag
ish.admissions@ishthehague.nl
www.ishthehague.nl