ACCESS NL > Features > ISH: Eco car at ISH | ACCESS
ISH: Eco car at ISH | ACCESS
2014-01-22 | By David Butcher


First published in ACCESS Winter 2013 e-zine
In the 21st Century, we live in a world that is incredibly fast moving and technologically advanced. The Internet has revolutionised the way we interact and go about our daily business.
Hence educational institutions have adapted and responded to this new way of life. Type 'university course' into any search engine and a huge array of courses in countries such as the Netherlands, the UK and the USA will pop up in the results.
Moreover it is the specificity of the courses that you can follow that is so appealing compared to the choices available in the late 1980s. With new divergent courses, come new educational methods and skills to teach the students of the next two to five years.
Universities are seeking the type of student that gives them the X factor and adds value to the campus cohort. Clearly a university offer is still based on academic grades but today's universities seek the next bright star: the potential future alumni that creates the next innovative product or finds the latest scientific breakthrough.
These skills of research, presentation and delivery are at the very core of the IB Diploma Programme and are the backbone of how, at the International School of The Hague, we educate our students. Whilst the academic programme is the bread and butter for the students to succeed, it is the additional extracurricular experiences that offer the students the opportunity to thrive outside the classroom.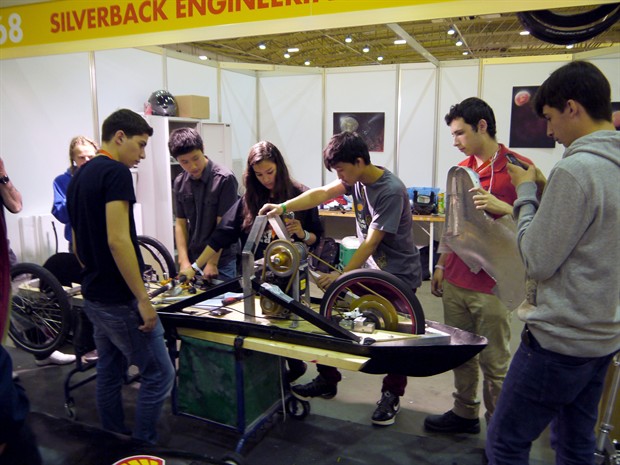 As a Principal, new to the school in September 2012, one of the most enjoyable meetings was with a group of students who wanted my approval and support for participation in the Shell Eco Marathon in Rotterdam. After only two minutes of discussion, I said, "You have me on board – this is brilliant". The ensuing months saw a group of entrepreneurial students design, construct, budget, and fund an eco-car for the Shell Eco Marathon in Rotterdam. The journey gave the students hands-on skills that we cannot replicate in the classroom. They also had the responsibility of completing the project to meet the tight competition deadline. It was close but they did it!
Of course, there were challenging problems to solve; and as the only secondary school contender, the ISH eco-car (ISHie) was pitted against teams from universities and small businesses.
The skills and experience that these students gained will be invaluable at today's universities. One of our students will have the edge when applying for Automotive Engineering by stating on their application that he or she was part of a team that built an eco car at school.
Watch this space: ISHie 2 is in design stage and I have no doubt this will be an improved version for the next competition, following in the tracks of the pioneers of ISHie.
---

Wijndaelerduin 1
2554 BX Den Haag
Secondary School
+31 (0)70 328 14 50
Primary School
+31 (0)70 338 45 67