ACCESS NL > Features > International School Utrecht : A high quality learning environment | ACCESS
International School Utrecht : A high quality learning environment | ACCESS
2014-05-01 | By ACCESS

International School Utrecht (ISUtrecht) provides a high quality and accessible international learning environment to primary and secondary students from diverse international backgrounds.
Since opening its doors in August 2012 the school has flourished and is currently catering for around 170 students, aged 4 -15, representing over 25 nationalities. The school will add a grade level each consecutive year, starting with a grade 10 class in August 2015, to the completion of secondary, grade 12 in August 2017.
ISUtrecht is currently based at the Notebomenlaan 400 on the east side of Utrecht. Due to the fact that student numbers have been growing at a much higher rate than originally predicted, the school will move to a modular semi-permanent accommodation at the Van Bijnkershoeklaan 8 in the spring of 2015.
The new building will address the educational needs of our growing international community, and it will give the school the opportunity to establish further within the city over the next four years. Within this timeframe ISUtrecht aspires to secure a long-term permanent location.
ISUtrecht is currently teaching the Primary Years Programme (PYP) and the Middle Years Programme (MYP). From 2016 the school will offer the Diploma Programme (DP). Once the authorisation process is finished, ISUtrecht will be an International Baccalaureate World School.
Uniting Cultures
International School Utrecht educates to unite, bridging cultures and at the same time celebrating difference. Community spirit, from the local to the global is a key part of the school ethos. Students at ISUtrecht embrace their own cultures and are open and responsive to other cultures and views.
Non-academic Learning
At ISUtrecht we do not just challenge our students academically, but we also address their social, emotional and physical well-being through Physical Education, Visual Arts and Drama classes as well as field trips, excursions and other extra curricular activities. As a school community we like to come together to see our students showcase their learning during special exhibitions or performances. We also join in with typical Dutch celebrations like Sinterklaas and King's Day. Students within their own classes will participate in many celebrations representing the different cultures within the school.
Parents Support Group
ISUtrecht has an active Parents Support Group that welcomes new parents, organises social events for parents as well as for the whole school community. (Please view: https://www.facebook.com/ISUtrecht). Parent volunteers also help with guided reading, school trips and safe cycling lessons. Every year the school community sponsors one or more local and global charities, for which students organise fund raising events.
Funding and Fee Structure
ISUtrecht is the first official Dutch International School in the Province of Utrecht. The school is funded and recognised by the Dutch government and it welcomes international students living in Utrecht and the surrounding area. The funding provided by the Dutch Government ensures the International School Utrecht has a fee structure that is accessible to many families.
---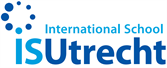 Notebomenlaan 400
Postbus 700
3582 CN Utrecht
+31 (0)30 870 04 00
www.isutrecht.nl
Email –info@isutrecht.nl