ACCESS NL > Features > Discovering Dordrecht
Discovering Dordrecht
2013-02-24 | By Dheza Marie Aguilar
First published in ACCESS Autumn 2011 magazine

You won't find this off-the-beaten-path island city on Lonely Planet's places to see in the Netherlands. But its history, cultural heritage and relaxing atmosphere make it a truly wonderful place to discover in Zuid holland.
 Strong history in a quaint town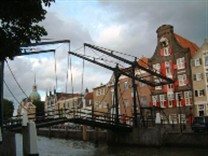 Even before Amsterdam became one of the most important cities during the Golden Age, there was already Dordrecht, the first official Dutch city and the country's earliest trading port. Dordrecht represents an old Dutch city – quaint canals, houses with trappengevels, small squares, huge churches, wooden bridges and a number of small ports. On a misty autumn morning, you'll feel almost transported to the 17th century while exploring its quiet, cozy streets.
The formation of Dordrecht into the city we know today has been both tragic and glorious – in terms of politics, trading, religion and even natural calamities. The city was born along the banks of the Thuredrith, at the time a strategic crossing for boats trading between Germany, Flanders and England. Back in the 13th and 14th centuries, Dordrecht was enjoying its most fruitful years after it was awarded stapelrecht (stapel right), which helped the trading of wine, wood, sugar and other products flourish. It remains an important part of the Dutch shipping industry today.
Glorious past revisited
The tower of the Grotekerk is the first sight that welcomes visitors to Dordrecht. Inside this church are impressive huge columns and a carillon, which has the heaviest bell in the world. While the grand design, massive organ and colorful stained windows are mesmerising, the graves of Dordrecht's famous people buried beneath make it even more intriguing. It is open for visitors with no entrance fee.
Near the Grotekerk is the Stadhuis (city hall), erected in 1383. A few metres away you'll find the monument of the brothers de Witt, Johan and Cornelis, two important Dordts politicians who tower over passersby. They are said to have been murdered with the blessing of Prince William of Orange III.
Weaved among historical landmarks are tempting shops. The shopping area starts at Voorstraat and extends to Statenplein all the way to Scheffersplein. On warmer days, Scheffersplein teems with people sharing the gezelligheid of the rare Dutch sunshine around the monument of Ary Scheffer, a Dordtse painter famous for his religious pieces. In Hofstraat, you will find the humble and often empty courtyard of Augustinian monastery Het Hof, an important place for Dutch independence. In 1572, representatives of 12 Dutch cities secretly gathered here to plan the revolt against Spain. This is known as the Eerste Vrije Statenvergadering, or Union of Dordrect.
Arts and culture
As further testament to this city's history are plenty of museums, galleries and antique shops scattered around. In Nieuwehaven alone are three cultural landmarks – Huis van Gijn, Museum '40-'45, and Dok Straatman. Plus, residents and visitors alike can enjoy musical events, dance and performance arts at the special venue of the Kunstkerk.
Still, Dordrecht's art scene is best represented by Dordrecht Museum. The unassuming building houses the most important works of Dordtse masters Aelbert Cuyp, and father and son Ambraham and Jacob van Stij, J.C. Schotel, among others. These paintings, dating back to the 15th century, depict the life of the early Dordts, their struggles and their beautiful city – offering a glimpse not only of Dordrecht's history but also of the Dutch people. Although you may not understand the descriptions (all in Dutch), you won't miss the emotions of these schilders, portrayed in deep colours and memorable scenes.
Nature at Biesbosch
After your cultural tour of the city you can also commune with nature. Take a short drive to Biesbosch National Park for wandelen, boating, kayaking and biking. Several rivers and creeks run through the park, making it an important migration ground for geese and home to birds and small animals. Biesbosch is the last freshwater tide in Europe and is protected by the government. Plans to re-open some of its estuaries hope to encourage the return of fresh water fishes and seals, last seen here in 1970. During World War II Biesbosch served as a hiding ground for Dutch people and a crossing point for war refugees.
Twilight charm
A day trip is usually enough to get to know Dordrecht but staying overnight lets you experience the enchanting twilight scenes of Havenkwartier. Streetlights illuminate the Grotekerk while the canal reflects the leaning Dutch houses. Accommodation is quite limited but should you decide to stay the night, I recommend two unique places.
First is Hostel Dordrecht, at the heart of Biesbosch, located beside a river that runs through the park. Spending a night here means waking up to the sights and sounds of nature. They offer bike rentals and facilities for both adults and children.
Another choice is Villa Augustus, a former water tower converted into a hotel. Each room varies in design, colour and concept and around it is a vegetable garden from which the hotel's biological restaurant sources it ingredients.
'Hapjes' with a view
Dordrecht's night scene is not very lively but for drinks and hapjes the city has perfect locations. Beside Groothoofdspoort is hotel and restaurant Bellevue where you can dine and drink while watching boats passing through the Oude Maas. In Nieuwehaven are also old pubs and restaurants with terrassen, a place reminiscent of Capri, Italy, with the golden sunset reflecting on yachts and old steamboats.
Festivals all year 'round
It's easy to plan your visit around the many events and festivals offered in Dordrecht. In autumn the city participates in the national Open Monument Day, celebrated every second week of September. Historical buildings and sites are open to the public free of charge, some with special on-site exhibitions and guided tours.
In October chocolate lovers of all ages will enjoy the Dordt in Choc Chocolate Festival. Twenty chocolatiers and pastry chefs exhibit their talents and share tasty samples. For holiday goodies, Dordrecht is also proud to host the biggest Christmas market in the Netherlands held annually from December 16 – 18.
If you plan to visit during warmer months, then don't miss the special Dordt in Stoom, held every 1st of June. The event attracts thousands of visitors wanting to experience a past time of old steam trains and steamboats. During spring and summer there are big music festivals including Wantijfestival, Big Rivers and World Jazz. In July, the Dordtse Boekemarkt gathers book traders and bookworms alike down a ribbon of 600 bookstalls through the city centre.
Going in and around
The easiest way to get around is by bike but I strongly recommend going by foot and losing the map. All that rich history and well-preserved culture can be best discovered through the city's narrow streets. You might get lost but that only adds to the fun!
Dordrecht is only 9,000 hectares and its centre is small and compact. By following Voorstraat you can reach Berckepoort, Het Hof and other land- marks. The street ends at Voorstraat-Noord where a number of antique shops are located. Many of these shops welcome visitors for extra hours on the first Sunday of every month.
Turning left from here, you will reach Groothoofdspoort, the city's decorated old gate. If walking is too exhausting after all that shopping, then take bus 10 back to Dordrecht Central Station.
Dordrecht is easy to reach through major thorough- fares A16 and A15 and most trains stop at the central station. However, a more romantic and enjoyable way of going to Dordrecht is by fast ferries from Rotterdam. They pass through Biesbosch, Oude Maas and some historical places in and around Dordrecht. You can also take your bike on board for free.
No doubt this small city will surprise you as it did me with all its history, culture, unique geography, shopping and fun activities throughout the year. ´
What to do…
For more information visit www.vvvdordrecht.nl
Where to stay
Hostel Dordrecht
Baanhoekweg 25, 3313 LA Dordrecht
078 621 2167
Hotel and Restaurant Bellevue
Boomstraat 37, 3311 TC Dordrecht
078 633 2500
Villa Augustus
Oranjelaan 7, 3311 DH Dordrecht
078 639 3111
---
Dheza Marie Aguilar is a Filipino freelance writer living in the Netherlands. Her goal is to share the joys of travelling on a weekend in Europe for busy people like her and somehow help the readers in finding a good place to spend their weekend trips : www.theweekendtraveller.com