ACCESS NL > Features > Hi! I am your Champion – Book review
Hi! I am your Champion – Book review
2013-05-28 | By Mary Jane Roy
Translating a book from Dutch to English is no easy feat, especially when Dutch isn't your native language.
When the opportunity arose for me to translate a book by Dr. Henk Fransen, I was ecstatic. This book had come to mean so much to me after my diagnosis of breast cancer in 2007.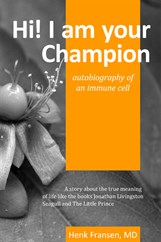 Though I'd never done any translating before (besides what I do in my head with everything I read in Dutch), I just knew that I could do this. I had so much emotion invested in the hero of this story.
I had actually read the book a couple of years prior to my diagnosis. It had been loaned to me by a friend and I was impressed enough to buy a copy. Like many good books, it came to rest on my bookshelf. Until a couple of weeks after I had been operated on. Then it took on a whole new meaning for me.
Without spoiling the story for you, Champion took me on a journey through my body. He made very visible, for me, what had happened to get me to this place in my life. He also helped me realise how much I could do to support the healing that could and was taking place.
No matter what condition you are suffering from, you can benefit from this. You can also benefit by learning how you can become proactive to protect yourself from dis-ease.
We have so much ability to heal. We only need to know how.
I hope you will purchase the online version of this charming and educational book and let me know what impact Champion has on your health.
---
Mary Jane Roy