ACCESS NL > Features > ASH: United Nations procedures – Hands on learning for students | ACCESS
ASH: United Nations procedures – Hands on learning for students | ACCESS
2014-03-20 | By ASH

First published in ACCESS Spring 2014 e-zine
Each year, The Hague International Model United Nations (THIMUN) conference is held at the World Forum Convention Center near Scheveningen.
Model United Nations (MUN) involves students from around the world and American School of The Hague is proud to be one of the founding members of THIMUM, sending student representatives to debate, represent a selected country or work on the organisation as administrators.
The delegates (High School students) simulate activities of the United Nations and attend conferences as delegates of a pre-assigned nation. The students lobby other countries and work on resolutions, which are then debated upon. United Nations procedures of format and formality are followed at every step of the process.
The theme of this year's conference was Sustainability. More than 3,500 students from around the world, as far away as Australia, the United States and Beijing, participated in the week-long, gruelling conference. Student work commences at the beginning of the school year as they learn about the program, gaining experience through visiting and participating in smaller conferences, culminating in a competitive selection process where the participants for this high-level conference are chosen. The MUN delegation has an executive committee of upperclassmen, called the Core Group, who are experienced MUN members that guide the other delegates and organise meetings – they work tirelessly as they manage the process and guide new participants.
This year, at the 46th Annual THIMUN Conference, American School of The Hague represented the Republic of South Korea with 23 student delegates participating and 72 students representing the School in the Administration. American School of the Hague Senior, Ms. Gharib was bestowed the honour as the Secretary General for the entire THIMUN Conference. Her opening speech on day one reflected on the importance of MUN for students and she commented eloquently on the conference theme: Africa: Transformations and Challenges Ahead. Ms. Gharib's message, "We [students] can be great, and have the power to make change in the world. And if we do not start now, then who will? And if we do not start now, when will change start?" Her closing remarks were equally as powerful: she invited the delegates and THIMUN participants to spend this special week on a path of change, to help Africa realise and rise to its bright future.
Lifetime skills are leaned at this demanding conference: organisation, public speaking, problemsolving, researching, debating, collaboration, empathy, respect and most of all, diplomacy. Students lasting memories: participating in a conference that brings together the young minds of the world in one common goal – to implement change. As one student from American School of The Hague said: "This definitely is a beginning for me, not and end…. I have achieved my goal of not being scared of speaking up and voicing my opinion."
---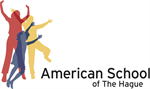 Rijksstraatweg 200
2241 BX Wassenaar
The Netherlands
+31 (0)70 512 10 60
www.ash.nl
admissions@ash.nl