ACCESS NL > Features > A Safe Harbour
A Safe Harbour
2013-09-23 | By ACCESS

First published in ACCESS Autumn 2013 e-zine
The mission of A Safe Harbour is to help students, parents, and staff cope with the challenges, and maximize the opportunities, inherent in the experience of international relocation and cross-cultural mobility.
As with all life, change is inevitable and the challenge lies in how to embrace it in order to fully enjoy new opportunities. For an internationally mobile community such as we have in The Hague, transition is always taking place, and the job of those of us who have been through that process is to support the newcomers and ensure they settle into daily life here as quickly and easily as possible.
As a learning community, American School of The Hague embraces change. New students, families and teachers are welcomed throughout the year. Many families come and go over the summer and winter periods but also on an ad-hoc basis. Those who remain for a while, typically 3-5 years, also face change as the community "refreshes" for the new school year: new students, teachers and classes, besides losing old friends. In all this "newness" it is easy to get lost in the culture shock of adapting. Students, parents and teachers alike can feel disorientated and lonely, experiencing the loss of those left behind, or facing cross-cultural confusion or misunderstandings in their new environments.
Mindful of these difficulties, American School of The Hague established a transitions program, called A Safe Harbour, to support all those coming, going or indeed staying. This network of teachers, students and parents provide a comprehensive approach addressing the challenges and opportunities that arise when moving among cultures. It is an umbrella of individuals, activities and programmes that work hand-in-hand to help with all aspects of arriving, orientating, integrating and departing.
Student Ambassadors help new students settle into classes, figure out their schedules, find their way around, and make connections. Parent welcomers team up with new families from their home country, welcoming them in their own language. Staff members have social buddies and learn things like where to buy furniture,
how to use an OV chip card, and how to pay for groceries. Most important of all is knowing that you are not alone, that it's not unusual to feel strange or frustrated along the way.
Leaving is equally as important as arriving. A well-planned "goodbye" provides some closure and the space to move onto the next adventure. Creating special moments to say goodbye is a key part of A Safe Harbour To learn more about the School's approach to transitions, you'll find details on their website: www.ash.nl or contact the External Relations Department at: pr@ash.nl.
---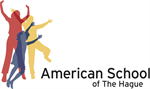 Rijksstraatweg 200
2241 BX Wassenaar
The Netherlands
+31 (0)70 512 10 60
www.ash.nl
admissions@ash.nl