ACCESS NL > Features > ASH: Getting the big picture | ACCESS
ASH: Getting the big picture | ACCESS
2013-06-07 | By ACCESS

First published in ACCESS Summer 2013 e-zine
Understanding the bigger picture of planning, organisation skills and constructions begins earlier than you may think. We follow the progress of the youngest learners at American School of The Hague, the Preschool students (aged 3), as they take on some big challenges.
The classroom environment for these young learners is specifically tailored to stimulate their creative and investigative minds, with academics being taught through the clever use of organised activities and structured play. While one preschool class creates a museum, the other has been on site at the construction of their new Early Childhood Center.
Museum Day – from scratch
With visitors at the door, what might be in store on a museum day in a classroom for three-year-old students when they are the hosts? Following their trip to a nature museum, one preschool class created their own museum mirroring what they had experienced. These young students created everything you might find in a museum, under the careful guidance of their teacher. They built artefacts to display, made games, created the ticket desk, cinema, cafeteria and exhibition space. Everyone had his or her own "job" – at the ticket desk, as a museum guide or working in the cafeteria. The students explained their artefacts in a prerecorded "artist interview" and their visitors noted that this truly was a highly creative learning environment where creativity and academics go hand in hand. So, what's next for these creative learners as they move forward into a new school year?
Building a town
It might be that that the second class of preschool students has some answers – they have recently undertaken a mammoth project, creating their own preschool town. With the wonderful support of parents, these young students visited the construction site of their future school, the purposefully-designed Early Childhood Center due to be opened in the summer of 2014 – just a short walk from their current classroom.
While learning about their new home at the Early Childhood Center (ECC), and exploring the design process, the students became very excited and took to creating their own personal town and having shared their plans, they joined forces to make "preschool town". Mapping out town designs on paper, selecting important buildings and areas to include such as a train station, a park, a grocery store and houses were all part of the process. Working with their truly inspiring teacher, they constructed their town with sturdy cardboard. Each student was able to make their own windows in the building, painted the walls and added their own décor and some landscaping – all based on the blue prints of the Early Childhood facility and their visits to the construction site. This exciting project should certainly help these young learners feel right at home next year in their new Early Childhood Center.
---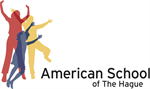 Rijksstraatweg 200
2241 BX Wassenaar
The Netherlands
+31 (0)70 512 10 60
www.ash.nl
admissions@ash.nl