ACCESS NL > Features > ACCESS: Nominated for The Hague Awards – Success category
ACCESS: Nominated for The Hague Awards – Success category
2018-08-08 | By ACCESS

Stichting ACCESS is a not-for-profit organization (KVK 41154401) established in The Hague in 1986 to encourage, support, assist and facilitate internationals coming to The Hague for business, research, or diplomatic posting.
Through the oversight of a Board of Directors, an Executive Director as well as an Operations Manager we are completely managed and staffed by volunteers, providing a service that is literally unique in the entire world. Born, bred and raised in The Hague, today ACCESS continues to provide our no-cost services to internationals across the country through our Helpdesk located in our back-office in The Hague. Since 2012 we have further extended our support to personally respond to and serve internationals through partnerships with municipal expat centres in The Hague, Amsterdam, Utrecht, and Leiden.
You can read below, why we feel we deserve this award, and how our success can be measured!
ACCESS' contribution to the economy of The Hague
Our contribution can be measured in many ways. Not simply in monetary terms, but in the qualitative value we contribute. Through the people we serve, the connections we make and the "Ambassadors" we create.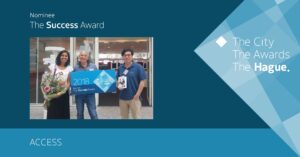 The volunteers
ACCESS consistently maintains a staff of nearly 130 volunteers representing 40+ countries – each one of whom brings to ACCESS their own personal international experiences of living and adjusting to the cultures of countries other than their home country. Approximately 10% of our volunteers are Dutch nationals who have significant international living experience and bring a valuable integration of their experiences with their innate understanding of the Dutch culture. These volunteers are the essence of ACCESS' understanding of and empathy for the challenges inherent to individual and family integration into a new culture.
The combined labour hours of ACCESS volunteers are the equivalent of almost 30 FTEs. More importantly though according to the 2014 survey of past ACCESS volunteers, "… 37% of respondents agreed or strongly agreed that ACCESS has been a stepping stone in finding paid employment." In providing professional volunteer opportunities to the spouse/partners of internationals, ACCESS also plays a role in supporting dual-career challenges of relocating professionals.
Those we work with
Besides providing volunteers, in almost all cases, the partners of people who have relocated, or returned to the Netherlands, the actual work of ACCESS further supports a healthy economic climate by contributing to the attractiveness of the city for international companies and organisations settled, or considering starting operations.
Together with the City of The Hague, ACCESS has pioneered a 'best-practices' model for receiving, welcoming and serving internationals arriving in The Hague. Since 2012 ACCESS has partnered with the municipality of The Hague in the creation and operation of The Hague International Centre as it now operates in The Hague city hall. This facility has provided international staff with a full-service entry point into the Netherlands and, more specifically, The Hague.
This partnership continues to define and exemplify the best-practice model for supporting the human resources departments of The Hague's businesses and universities. Through the facilitation of registration formalities and an initial welcoming orientation to The Hague, ACCESS serves in many ways as a de facto extension and valuable resource to these departments. Over time, many of these international families return to The Hague International Centre seeking assistance with their evolving challenges. Our success at this service was recently evaluated (2017) by an external firm contracted by the Municipality of The Hague and demonstrated that we received a 9.5/10 satisfaction rate from our international clients.
Creating Ambassadors
This effort minimizes the effects of the stress of relocation leaving the international staff free to concentrate on the business imperatives of their respective organizations. It also contributes to the creation of "Ambassadors for The Hague". This service is further complemented by regular Welcome to The Hague sessions which include an introduction to the city, its services and attractions, and 'what to expect from the Dutch', also managed by ACCESS.
Through our Executive Director we have supported the successful transition of such organisations as DAMCO (2013); NATO's Communication and Information Agency (2015) and the Civil-Military Co-operation Centre of Excellence (2013), to name a few, to The Hague region. Furthermore, businesses, educational institutions, and governmental agencies have partnered with and relied upon ACCESS to facilitate the relocation of international staff and to support them and their families with their transition to a satisfying work/life balance in the Netherlands. Examples include DAMCO, CB&I, UPS, ISH and ESH. As recognition for its role in supporting the international, expatriate community to the Netherlands, ACCESS was the winner of the "Expat Service Provider of the Year" in 2010.
Some Facts & Figures – Our Impact
Since collecting data on our client contacts, ACCESS has shown a progressive increase in the number of individuals we have served over the years.
From The Hague International Centre alone these were:
5,928 in 2014
6,768 in 2015
7,242 in 2016 and
7,564 in 2017
These numbers jump significantly when the calls/emails to our Helpdesk are added, as well as the number of family members involved with each contact (see addendum). And, what we are proud of, 30% of our clients take the time to write back, and say thank you.
The hits on our website have also progressively increased. There we answer many of the frequently asked questions internationals have before, during and as their stay in the country ends. We averaged in unique visitors per month:
17,231 in 2014
18,231 in 2015
19,076 in 2016 and
28,482 in 2017
In 2012 we started our first co-operative partnership with a municipal authority, namely, The Hague. This model has since been copied and is now in place in three other cities: Utrecht (2015), Amsterdam (2016) and Leiden (2016).
On average, since 2015 every year we have had at least 130 volunteers actively contributing to our work, and our success, and as such, to their own satisfaction and settlement in the Netherlands. From our 2014 survey among past and active volunteers: 93% agreed or strongly agreed that in general joining ACCESS is/was a positive and valuable contribution to their stay in the Netherlands .
Cooperation, Entrepreneurship and Innovation
At ACCESS we firmly believe in working with community efforts, and have many partnerships with profit as well as not-for-profit organisations serving the international community. In some cases these organisations would be considered competitors to some of what we do.
Some concrete examples of this commitment to local initiatives include:
Our founding partnership with TheHagueOnLine to create the Feel at Home in The Hague Fair in 2007
 The creation of the exhibit 'Expats in The Hague' (2016) together with the Expatriate Archive Centre (also locally based)
Support for the annual conference of Families in Global Transition, which took place in The Hague in 2017 and 2018
Support to activities of The Hague Bridge since it started.
Furthermore we maintain a database of thousands of local expat-referred and preferred service providers. There is no fee to be listed in this database which is updated throughout the year and helps our Helpdesk teams at the back-office as well as front office at The Hague International Centre to refer clients to the right services they seek.
Our partnership programmes with local service providers is an additional example of how we aim to facilitate bridges made between internationals living in the city, and local businesses and organisations. We often find ourselves advising entrepreneurs who wish to target the international community on how best they can do so. In this regard, we make presentations for: Volunteer The Hague and local business network organisations such as the International Community Platform (ICP), Women's' Business Initiative International (WBII), Xpat Journal, MKB and BNI.
But there is more….
Besides the support of our volunteers and partners which allow us to serve the international community, ACCESS also relies on and works with local entrepreneurs – expat as well as Dutch – who provide services required by the community.
Our Counselling Services Network is made up of 21 expat experienced, locally practicing psychologists/therapists who take turns being on-call throughout the year to provide those in need of support, a free referral service the support sought for.
The ACCESS Training Network is also made up of 21 entrepreneurs. Many are or have had expatriate experience, and offer an expertise often looked for by internationals. Through ACCESS we connect them to potential clients and thus enhance their own business ventures.
Our popular Childbirth Preparation Courses, given by local entrepreneurs, introduce participants to they can expect in the Dutch healthcare system. Furthermore, the information provided connects them to additional services available to them as parents of young children.
Finally, ACCESS' quarterly magazine, distributed through The Hague International Centre and international schools focuses on promoting connections between internationals and their host country, encouraging them to discover and reach out to locals – neighbours, services, attractions and events. It furthermore provides professionals (writers, illustrators, photographers etc.) the opportunity to build a portfolio in a country in which they may be building their own new business networks and experience.
In conclusion
From pre-arrival through the initial settling to integration and everything in between, ACCESS serves as a welcoming and supportive partner to organisations and individuals coming to The Hague. We continue, after more than 30 years, to successfully serve the international community (individuals; corporates; volunteer opportunities; local entrepreneurial and community efforts) in varied ways and thus successfully contribute to putting The Hague on The map for international talent and companies.
You can read testimonials about ACCESS here.